Bookstore
CRIME/HARD-BOILED/
PRIVATE INVESTIGATOR/
SUSPENSE/THRILLER/
WHODUNIT MYSTERY
COLLATERAL DAMAGE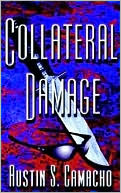 Buy from Amazon
Bea Collins was troubled when she went to Hannibal Jones' office. Her fiancÚ Dean had disappeared. Hannibal Jones, the troubleshooter, agreed to help her, even though he feared that his quarry had simply run off with another woman after taking most of Bea's money.

Little did Hannibal suspect that he would find Dean just before the man was accused of the bloody murder of a co-worker.

Suddenly, Hannibal has a new client. Not only do the murder weapon and other evidence point to Dean, but Dean can't seem to remember what happened. Police believe that Dean might be following in the footsteps of his own mother, who had been convicted of killing Dean's father. Or was Dean covering for his mother, now out of prison and considered a possible serial killer.

The trail leads from Washington DC to Las Vegas and even to Germany, where Hannibal stumbles upon a third murder which seems linked to Dean's life. The web of murder also ties Dean to his sexy female boss, as well as the man Dean is accused of murdering.