Bookstore
AMATEUR SLEUTH/COZY/
BIBLIOMYSTERY/SUSPENSE/
WHODUNIT/TRADITIONAL MYSTERY
DEATH WALKED IN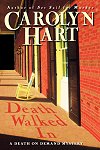 Buy from Amazon
A million-dollar heist of gold coins on Broward's Rock shocks residents on the placid South Carolina sea island. Soon after the coins disappear, a woman calls Max Darling's office, telling his secretary she needs help. Max refuses to take the call. He remembers only too well that the last time he tried to help a woman who claimed to be in trouble, he ended up in jail accused of murder.

The woman leaves word she's hidden something in Franklin house, the antebellum home Max and Annie are restoring. Unable to reach Max, his secretary alerts Annie. Annie hurries to the woman's home and finds her dying of a gunshot wound.

Max vows to find her murderer since he refused to help when she called. What did the dead woman hide in Franklin house?

Digging for answers, Annie discovers strange connections between the murder, Franklin House, and the coin theft. When Max is shot at when he interrupts a break-in at Franklin house, Max and Annie realize their home is threatened and so are they.

Annie and Max's old house, the dead woman's home, and the site of the coin theft are inextricably linked. The closer Annie and Max come to the truth, the closer they get to a killer ready to strike again. Annie discovers the secret of Franklin house but death walks in.