Bookstore
COZY MYSTERY
A RANT OF RAVENS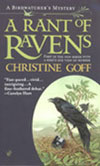 Buy from Amazon
When Rachel Stanhope, career-woman turned reluctant birdwatcher, stumbles across a dead body while "pishing" an elusive bird from the brush, it falls to her to flush out the killer before anyone else dies.

With her marriage in shambles and her fast-paced life stuck in low gear, Rachel Stanhope has come to her Aunt Miriam's home, a ranch in Colorado that also serves as a bird sanctuary, in search of refuge. Since she can't tell a sparrow from a swallow, Rachel doesn't plan to spend much time scouring the skies for birds. But as a favor to her widowed aunt, she agrees to host the meetings of the local birdwatching society.

While searching for a LeConte's sparrow on her first expedition, Rachel makes a gruesome discovery: the dead body of a reporter for Birds of a Feather magazine. Rachel knew he had recently questioned Miriam about her deceased husband's involvement in a bird trafficking scheme and warned her to beware. Now it seems Miriam's the chief suspect in his murder. But while Rachel is busy sorting out possible motives, three rare birds go missing and Miriam disappears without a trace!