Bookstore
AMATEUR SLEUTH/CAPER/
CATS/CHICK LIT/DOGS/
HUMOR/ROMANTIC/
SUSPENSE/WHODUNIT MYSTERY
THE BODYGUARD AND THE SHOW DOG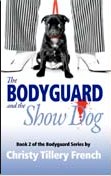 Buy from Amazon
This installment of the Bodyguard series finds protection specialist Natasha Chamberlain self-employed and happily involved with her former boss, Jonce Striker. Natasha is a little bit disappointed her official job as a bodyguard is to protect a champion Pug named Chumley. But Chumley's life has been threatened if he participates in an upcoming dog show and Natasha can't resist the little Pug, even though he turns into an obnoxious creature when his owner isn't around. Although Natasha thinks there shouldn't be much danger guarding a show dog, after she ends up in the emergency room several times, tangles with a criminal biker, is beaten up by a state employee, and faces off with an animal abuser, she changes her mind. If that isn't bad enough, she's finding it difficult to balance her new business with her increasing love for Striker.

Meanwhile, Striker sees the investigation growing wackier and more dangerous by the day. His time is spent between trying to convince Natasha that the bodyguard business is too dangerous and deciding how he can persuade her to marry him.

From Behler Publications: In the tradition of Janet Evanovich's Stephanie Plum series, Christy Tillery French combines romance, mystery, death threats, and engaging clumsiness in her newest installment of her entertaining Bodyguard series, The Bodyguard and the Show Dog.