Bookstore
ANTHOLOGY/MUSIC MYSTERY
A Merry Band Of Murderers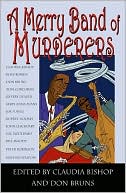 Buy from Amazon
Mystery and music combine in this exciting publishing first. Thirteen mystery writers-professional musicians, singers, or composers all-have contributed an original short story and an original composition themed around their contribution. The short stories cover a range of genres—from suspense to thriller to noir to cozies. And the music spans jazz, folk, country-western, rock and roll, and ballad; there's even a patter song, for those of who miss Tom Lehrer.

Each story is book-ended by an interview with the author, a lively biographical introduction, and the words to the song recorded on the accompanying CD.

Co-edited with Don Bruns.