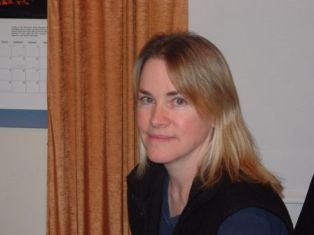 MLC: Do you remember the first mystery you ever read? If so, what was it, and what pulled you into it?
AUTHOR: The first mystery I remember reading was a Nancy Drew story, THE BUNGALOW MYSTERY. I guess, like a lot of girls, I enjoyed reading about a girl older than myself living what looked like a pretty good life and getting into adventures.
MLC: When did you first decide you wanted to write a mystery, and what led you to that decision?
AUTHOR: I've enjoyed mysteries all my life, whether we're talking about books, film or TV shows. I've always particularly enjoyed the hardboiled genre. I grew up watching shows like "Mannix" and "Name of the Game." (I'm really dating myself here!) But, as I watched those shows, I found myself identifying with the male lead, since he got to do the most interesting things. (Which meant I had to sort of "tune out" when he got around to kissing the girl . . .) I hungered for more shows like "The Avengers" and "Honey West," in which women were either in charge or equal partners in the investigation. This was in the days before authors like Marcia Muller, Sue Grafton and Sara Paretsky created their hardboiled heroines. I thought about writing mysteries with hardboiled female heroines before they were writing them. Now I wish I'd gotten more serious about actually writing them a bit sooner!
MLC: Do you write in any other genres? If so, which ones?
AUTHOR: Right now, I write mystery only. For the moment, I'm pretty happy to stick with crime fiction. I've considered the possibility of writing an historical mystery, but right now it's no more than the proverbial gleam in my eye.
MLC: Which comes first for you, the plot or the characters?
AUTHOR: In general, I try to get a rough idea of the plot first. I spend a good deal of time thinking about the backstory and create characters as I develop that and the plot.
MLC: When you are all wrapped up in the story, do you feel like you could solve the crime, or maybe even solve all the world's mysteries?
AUTHOR: I wish I could solve all the world's mysteries. I'd probably be making more money!
MLC: Do you write every day, or what kind of a schedule do you have? Do you write fulltime, or do you have a "day job"?
AUTHOR: I write practically every day, usually for 2-4 hours in the afternoon or evening, depending on my other scheduled activities for that day. Right now, I have a part time "day job" as a reference librarian. I also do legal and business freelance writing, in addition to fiction writing.
MLC: Other than your writing, what do you enjoy doing? What is the most important thing to you in your day-to-day life?
AUTHOR: Writing is such a solitary and consuming passion, I find it's important to take the time to come up for air now and then. I love taking walks and bike riding. I try to get to the gym two or three times a week. I'm a big fan of movies, old and new. I read a lot—mystery, mainstream, nonfiction, whatever catches my fancy. I try to make time to call friends and family and spend time with them, as well as my husband, Rick, and our four wonderful cats.
MLC: Who are your favorite mystery authors? Do you try to emulate them in your own writing?
AUTHOR: Walter Mosley and Sue Grafton are two of my very favorite mystery writers. In fact, when I created my protagonist, Sam McRae, my initial guiding concept was "Kinsey Millhone as a lawyer." Having said that, I think it's important for a writer to develop his or her own distinctive voice, and I would never want to simply mimic another author. However, when I read their work, I try to figure out what techniques they're using that I like and think about ways I could use them in my writing.
MLC: In your present book, is this part of a series, or is it a standalone book?
AUTHOR: My current book, IDENTITY CRISIS, is the first in a hardboiled series featuring lawyer/sleuth Stephanie Ann "Sam" McRae.
MLC: If you are doing a series, do you see an end to it sometime, or do you plan to go on for several years with it?
AUTHOR: I think there is almost limitless story material for legal mystery writers. Right now, I have a three-book contract, but I have lots more ideas than that and I'm willing to write as many stories for the series as the publisher is willing to release.
MLC: Do your characters ever drive you a bit crazy by going off in their own direction? If so, how do you rein them in, or do you just let them run off on their own?
AUTHOR: So far, that hasn't been much of a problem for me. On rare occasions, if a character does something really out of the blue, I try to run with it and see where it goes. Often, the unexpected development can take a story in a new and better direction than I could have planned. I outline my plots, but my outlines are always subject to change as I work on the actual story.
MLC: Do you pattern your sleuths after yourself or someone you know? If so, do you let that person know they were your "pattern"?
AUTHOR: Sam isn't completely based on any one person. She's a few parts me, with traits from other female lawyers I've known thrown in. I haven't told them . . . at least, not yet. There are some things Sam does that are wilder and riskier than any lawyer I know would do, but fictional characters are allowed to be larger than life, right?
MLC: How long did it take you to get published? How many rejections did you have to suffer through first? Were you ever tempted to give up? What do you think made the difference when it was accepted?
AUTHOR: From the time I started seriously writing and trying to get published, it took about eight years to land a contract. IDENTITY CRISIS is the second novel I finished. After I wrote the first novel, I queried numerous agents (I lost count, but it had to be around 80 or so) and got mostly flat rejections. A couple asked to see sample chapters, then declined but with encouraging comments. I decided to write IDENTITY CRISIS, rather than continue trying to sell the first story. I queried roughly 60 agents on that one and got rejections all around (not even a nibble this time). I think what made the difference was changing my strategy and querying small publishers. It's probably easier for new authors to sell their work to a small press than to convince an agent to take a chance on them. It may have helped that the owner of the first small publisher I queried, Quiet Storm, was already familiar with my work, because he had just published one of my short stories in an anthology titled CHESAPEAKE CRIMES. As for giving up, I've never considered that an option.
MLC: Do you ever attend any conferences? If so, which ones?
AUTHOR: At a minimum, I usually attend Bouchercon and Malice Domestic. I've also attended Cape Fear Crime Festival and Deadly Ink.
MLC: Do you have to promote your own work, or does your publisher do that for you?
AUTHOR: It's up to me to promote my work. Since it's a lot of work and I can use all the help I can get, I decided to hire a publicist, BreakThrough Promotions. They've provided some wonderful marketing opportunities I'd never have landed on my own, such as radio interviews, and done all the legwork to arrange for signings and book reviews. I've also done some of my own promotion, through publications of various organizations I belong to, participating in local authors' events, talking to bookstore managers, posting my events on lists and just word-of-mouth.
MLC: If you have to do marketing, what methods have worked the best for you?
AUTHOR: Hand selling and personal appearances at book signings, book fairs, conferences and other events have worked well for me. Even something as simple as selling books at a table by the bookstore door seems to work for me. It's amazing how much you can sell, when you smile and engage people in conversation as they come in. I'm a shy person, but I've surprised myself with my ability to put my shyness aside and just connect with people under those circumstances. I've learned not to be reticent about talking my book up. It pays to be fearless and shamelessly self-promote.
MLC: Do you have any idea how your book is selling?
AUTHOR: Other than knowing it was in my publisher's Top 10 during the last half of 2005, I really don't know. Now and then, I'll notice a spike in my Amazon ranking, but I have no idea what that means in terms of sales in hard numbers.
MLC: What has been the best review you have gotten, and why?
AUTHOR: I think the first one was the best. It was a rave, and it felt so good to know that an impartial person who reads lots of other books liked mine.
MLC: Have you won any awards, either as an author or for your books? Please tell us about them.
AUTHOR: So far, no awards. Unless you count winning third place in a short story writing contest. It was a contest sponsored by Oceana Magazine, an Ocean City, MD publication. I ended up revising that story and getting it published in CHESAPEAKE CRIMES.
MLC: Is there any one certain thing that a reader has written to you that made you just want to jump up and shout "Yes!!!!"?
AUTHOR: These weren't written to me, but two readers posted reviews on Amazon that compared me to Sue Grafton and (gulp!) Raymond Chandler. How much better does it get than that?
MLC: What is your next project, and when will it be out?
AUTHOR: I'm finishing up the second book in the Sam McRae series. The working title is DEEP SIX. No release date yet.
MLC: If you could write anything at all, ignoring what editors and publishers say they want, what would it be?
AUTHOR: Exactly what I'm doing right now.
MLC: Do you have any words of wisdom for aspiring mystery authors?
AUTHOR: Write the kind of mysteries you'd like to read. Read the kind of mysteries you'd like to write. Join a writers' group and learn to take advice and criticism, while keeping in mind it's your book and you make the final decisions about how it should be written. Take advantage of opportunities to get your work out there. Keep writing and querying and never ever give up.
MLC: Do you have any teasers for your readers and fans about the next book?
AUTHOR: Sam is hired by an activist group to fight a big development, but may lose the client when one of the members (an old friend) is killed, apparently by someone who's harassing the group. Sam's investigation reveals unexpected ties between some group members and pro-development forces and raises concerns that possible political influence and corruption may be tainting the inquiry into her friend's death.
MLC: If a genie suddenly appeared and said they would grant you just one wish for your books, what would you wish for?
AUTHOR: Not much, really. A seven-figure offer for the movie rights would do. :-)
MLC: Please give us your website url and your email address where people can contact you.
AUTHOR: My web site is www.debbimack.com and my email is debbi@debbimack.com.
MLC: Thank you so much for giving us a little glimpse into your books and your life. We look forward to a lot more books from you.