Bookstore
SUSPENSE/ROMANTIC MYSTERY
A SHADOW ON THE SNOW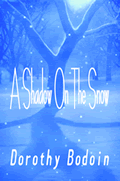 Buy from Amazon
Krista Marlow's plans for a quiet winter vacation on Lake Huron go awry when she discovers a body hanging from a tree on an isolated country road. The victim has been shot with an arrow. At his feet is a sign bearing the message 'Ban the Kill'. Krista's involvement in the murder as a witness brings her in contact with taciturn Huron Station Sheriff Mark Dalby who alternately fascinates and infuriates her.

The log cabin willed to her by her great aunt is not the peaceful northwoods haven she'd envisioned. The gunshots of the deer hunters unnerve her, a mysterious man watches from the edge of the woods, and an antique radio airs broadcasts from the past. Krista fears that the driver she saw speeding over the icy road a few minutes before she discovered the body thinks she can identify him and may intend to kill her. This seems to be the case.

Can she unlock the secrets of the past and unmask the archer killer in time to save her life?