Bookstore
COZY MYSTERY
A SHORTCUT THROUGH THE SHADOWS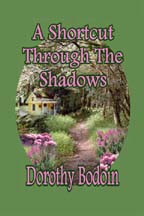 Buy from Wings Epress
When Jennet Greenway's collie, Winter, receives a canine hero award for rescuing a child from drowning, a mysterious man offers her a thousand dollars for him. Another man claims that Winter belongs to his sister, Alexandra, who vanished several months earlier. Hoping that she'll be able to keep Winter, Jennet agrees to help search for Alexandra.

In the meantime, Winter discovers the body of a young woman buried in the woods, and Jennet's search for Alexandra sets her on a collision course with a killer.

In May of 2005, A SHORTCUT THROUGH THE SHADOWS won the Golden Wings Award, chosen by the Wings editors as the best overall read for the Mystery Department.