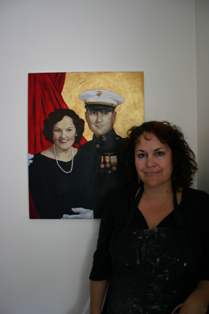 MLC: Do you remember the first mystery you ever read? If so, what was it, and what pulled you into it?
AUTHOR: Julie: The first actual "mysteries" I remember reading were short stories in a well-worn collection titled "One Minute Mysteries." I rarely figured out the puzzle myself, but I loved the challenge. I soon moved on to Alfred Hitchcock's "Three Investigators" series, which I adored, as well as Trixie Beldon.
Carolyn: As the older sister by 4 years, I read those books first, of course, so I could act superior about knowing the solution. Seriously, I loved passing my favorites on to Julie. I adored Trixie Beldon in particular. I loved spending time with Trixie and her friend as they ferreted out the clues. They were so active and involved – I always looked for dynamic female characters I could relate to.
MLC: When did you first decide you wanted to write a mystery, and what led you to that decision?
AUTHOR: Julie: Carolyn and I have traded books back and forth for years, and we both love mysteries. Series are my favorites –when I like the characters—and I enjoy learning about new topics, painlessly, while taking in a good story. So when we decided to try our hand at writing, mysteries seemed to be the obvious genre.
Carolyn: I think we both wanted to write what we love, and our first love was mysteries. We both enjoy humor, as well, so that went into the books.
MLC: Do you write in any other genres? If so, which ones?
AUTHOR: Julie: We're writing a thriller, and trying some "women's fiction." But nothing's ready for publication yet. In addition, Carolyn writes non-fiction history (she's a professor), and years ago I wrote in anthropology.
MLC: Which comes first for you, the plot or the characters?
AUTHOR: Carolyn: Characters, definitely. We find that the plot often emerges from the characters' reactions to the situations they find themselves in.
Julie: Yes, we're definitely in the "by the seat of our pants" category of writing. We start out with a broad idea for a plot, but the characters always wind up suggesting new plot twists and taking the story in different directions. That's where the magic of writing comes in.
MLC: When you are all wrapped up in the story, do you feel like you could solve the crime, or maybe even solve all the world's mysteries?
AUTHOR: Julie: Ha! That's a great question. I suppose there is a certain "godlike" quality one feels when you realize you're in complete control of your imagined universe. But on the other hand, as we both mentioned above, the characters often seem to go off on their own, so perhaps we're not as in charge as we think we are.
Carolyn: I do think that one of the attractions of the mystery genre is the ability to "set the world right." It feels as though if people just act decently, and according to basic rules of politeness and morality, everything would be okay. In a traditional mystery the ultimate breaking of the rules—the murder—is solved by an amateur sleuth not so different from you and me. That's a great fantasy.
MLC: Do you write every day, or what kind of a schedule do you have? Do you write fulltime, or do you have a "day job"?
AUTHOR: Julie: I have my own art studio –much like our protagonist, Annie Kincaid—and I do faux finishing, paint murals and decorative borders, and portraits. Pretty much anything with paint, except for plain wall painting! That's my day job. Job number one, though, is being mom to my teenage son – an exhausting job, but a great one. In order to write everyday I get up at 4 in the morning and write for 2 hours before things get crazy. I'm not much of a night owl anymore, I'm afraid!
Carolyn: I teach history at Old Dominion University in Norfolk, Virginia. Julie and I wrote our first novel, Feint of Art, when I was lucky enough to be on sabbatical. It's a lot harder to find time now, while I'm teaching a full course load. I tend to work on the books on weekends and school vacations—not as steadily as Julie, but in longer spurts.
MLC: Other than your writing, what do you enjoy doing? What is the most important thing to you in your day-to-day life?
AUTHOR: Julie: I have a son, and as most mothers know, his well-being comes before all else. He's also a lot of fun, so I can't complain! Carolyn and I both have pets; I have one dog, and Carolyn has several dogs and cats – she's active in animal rescue. I have a very close-knit group of friends and neighbors that I spend a lot of time with, and I've been involved in a community volunteer home-renovation service for elderly and disabled. I also garden a lot, enjoy cooking, and love dancing to salsa music! Oh, also I paint for a living, as well as for fun…did I mention that?
Carolyn: Other than teaching, I spend a lot of time with my animals. I'm a voracious reader, and just enjoy spending time with friends and family.
MLC: Who are your favorite mystery authors? Do you try to emulate them in your own writing?
AUTHOR: Julie: Elizabeth Peters –also known as Barbara Michaels. Janet Evanovich's early books, for their humor and audacity. Early Sue Grafton and Linda Barnes for their sense of pacing and plot. Elaine Viets, Nancy Martin, and Carolyn Hart are recent favorites. I think the most important thing for a writer to do is to read. I'm always inspired by other authors' styles – not necessarily to emulate them, but to notice the myriad ways people approach different writing issues.
Carolyn: Ditto the above. I also like some of the grittier writers, like the early Patricia Cornwell, though she's gone a bit over the top. I like the Kellerman medical thrillers and Sara Paretsky. Recently I've discovered lots of other cozy authors – like Tamar Myers and Joanne Fluke-- though my heart is still with the old Vicki Bliss mysteries of Elizabeth Peters.
MLC: In your present book, is this part of a series, or is it a standalone book?
AUTHOR: Brush with Death is the third in the Annie Kincaid Art Lover's Mystery series; the first two were Feint of Art and Shooting Gallery.
MLC: If you are doing a series, do you see an end to it sometime, or do you plan to go on for several years with it?
AUTHOR: We love the Art Lover's mystery series, the characters, and especially Annie Kincaid. I can see the series continuing for some time, as there are so many crazy forgery and theft stories out there! But we're also starting a new series featuring a disillusioned midwife who works with botanicals. It will be a contemporary series, but the protagonist is writing a history of midwifery and accusations of witchcraft, so we can bring a lot of great history in, as well.
MLC: Do your characters ever drive you a bit crazy by going off in their own direction? If so, how do you rein them in, or do you just let them run off on their own?
AUTHOR: Julie: As we mentioned above, they definitely do take on minds of their own. It can be frustrating –especially when they throw a monkey wrench into the plot—but mostly it's very exciting. Occasionally they start something that becomes a big part of the story. For instance, Frank (the landlord) was meant to be a minor character, someone who was a bit suspicious in the first novel. But then he developed more as a character, and wound up setting off sparks with Annie. Who knew? Now we've got a love triangle we hadn't really planned for, and it's anybody's guess how it will turn out.
Carolyn: And if anyone wants to weigh in on the Frank vs. Michael romance decision, feel free to contact us at hailey@haileylind.com. We're taking votes!
MLC: Do you pattern your sleuths after yourself or someone you know? If so, do you let that person know they were your "pattern"?
AUTHOR: Julie: Annie is patterned a little after me in terms of her job and her impossible hair. But that's just because I wanted to write about something I knew about, and my artistic jobs are an interesting setting for the plots. We don't have an art forger grandfather! Other characters are modeled after known people: the assistant Mary is a friend of mine who has since grown up a lot, but when I first knew here she was very Goth and very…Mary. She always claims she wouldn't act like the character does in the book, but everyone who knows her recognizes her right away.
Carolyn: It's fun to think of someone you dislike intensely when shaping the villains, but in that case we don't let them know about it! We actually know so many interesting people we'd like to include them all, but usually they're several people melded into one. Brian is a real person, for instance, and Pete was modeled on someone Julie knows in Oakland.
MLC: How long did it take you to get published? How many rejections did you have to suffer through first? Were you ever tempted to give up? What do you think made the difference when it was accepted?
AUTHOR: Julie: We wrote the first draft in about six months, but then took another six months re-writing and working through the kinks. Once we started shopping the book around, we got some very nice rejections (and a lot of not-nice ones, too) saying that the manuscript was "not ready." I went to my first writers' conference, soaked up information like a sponge, went home and re-wrote the entire first chapter. That really helped us turn a corner.
Carolyn: We also had the manuscript professionally edited, which helped enormously. Both of us were accustomed to academic writing, but had a lot to learn about creative writing. Our editor was very talented and we learned so much from her. The second time we shopped the book around, we sent it out to 38 agents. 34 of those rejected us, several telling us that "art doesn't sell". 4 agents offered to represent the book, and we decided on our wonderful Lindstrom Literary Management, who sold the book within two weeks to the Signet Mystery imprint of Penguin Books.
MLC: Do you ever attend any conferences? If so, which ones?
AUTHOR: Julie: We both try to make it to Malice Domestic every year. This year I went to Left Coast Crime in Seattle, and am headed to Boise for Murder in the Grove. I will also be at Bouchercon in September, in Anchorage, where I'll be taking part in an "authors in the bush" program, going out to remote areas to talk with students who don't meet a lot of authors. I can't wait!
MLC: Do you have to promote your own work, or does your publisher do that for you?
AUTHOR: Julie: Unfortunately, the economics of publishing being as they are, Penguin doesn't have much of a budget for new mystery authors. I have a very active signing schedule in California and work with Sisters in Crime (I'm a board member of my local chapter) and Mystery Writers and America to keep active in the local mystery community. In addition, we've made up bookmarks, postcards, and send out our own press releases. We try to get our books in on-line sites such as Stop, You're Killing Me and Dawn Dowdle's own excellent Mystery Lovers Corner.
We held a drawing for a free custom portrait with the release of Shooting Gallery, and we'll do so with Brush with Death, as well. I think it's helping to build our visibility and get the name out there. But mostly we rely on word of mouth – if you like the books, please tell your friends!
MLC: If you have to do marketing, what methods have worked the best for you?
AUTHOR: Julie: I think the face-to-face meetings are the best; most people are willing to spend $6.99 on a new author if they enjoy your talk. So the library chats and book group meetings are a great way to introduce ourselves to new readers. The on-line resources are great as well – I'm always surprised by how much traffic we get to the website through those mystery sites. Finally, independent bookstore owners – especially the mystery bookstore folks - are the best. If they like your books and "hand-sell" them to customers, you know you're getting your books to new readers.
MLC: Do you have any idea how your book is selling?
AUTHOR: Carolyn: That's very hard to say! The accounting gymnastics in the publishing industry are mind-boggling. Sales aren't considered "real" until the book hasn't been sent back for a period of time, since all sales are really by consignment. But the sales seem to be building over time – our first three books have come out so fast that people are still stumbling on to the first in the series, Feint of Art, and only then looking for the next in the series. But there are some good signs: Feint of Art was nominated for an Agatha for Best First Novel, and the rights were bought by a Japanese publisher, so that's pretty exciting! Imagine seeing your book translated into Japanese!
MLC: What has been the best review you have gotten, and why?
AUTHOR: Julie: We just received a great one for Brush with Death, which called it "a Masterpiece." That's pretty hard to beat. I think the best reviews are the ones that really "get" the books: that they're funny, easy-to-read, and light, but also have a serious undertone and plenty to teach about history and art. Personally, I think the books can be read on several levels, either just for the fun interplay amongst the characters, the hint of romance, the mystery puzzle, or the information about art forgery and art history. We've received lots of positive, five-star reviews that focus on all of that, and those are the best.
MLC: Have you won any awards, either as an author or for your books? Please tell us about them.
AUTHOR: Carolyn: We were nominated for "Best First Novel" for Feint of Art, though we lost it to a very worthy adversary, Sandra Parshall. Still, as the saying goes, "it was an honor just to be nominated." Trite, but true! Other than that, we've both won honors for our academic work, but we're still new to the novel business. We're keeping our fingers crossed.
MLC: Is there any one certain thing that a reader has written to you that made you just want to jump up and shout "Yes!!!!"?
AUTHOR: Carolyn: Several readers have written to say our books reminded them of Elizabeth Peter's Vicky Bliss mysteries. Since they are among my favorites, I loved that! Others have likened us to Janet Evanovich, and I loved her first few books. But any time someone takes the time to write us, we both feel so honored. It's really something to think that a perfect stranger has felt a connection with your words, on any level.
Julie: One writer was displaced in Hurricane Katrina, had lost her home and all of its contents, and happened upon Feint of Art. She wrote to say that it allowed her a mental break from all of her troubles, made her laugh and made the world go away for a few hours. It's hard to beat a letter like that. She actually went on to win the first portrait – I'm painting a portrait of her mother. All of her photos were lost in the storm, so I'm working from a small Xeroxed copy of a catalog photo. It's been an amazing process – the photos will be up on the website soon.
MLC: What is your next project, and when will it be out?
AUTHOR: Carolyn: Brush with Death, the third in the series, is set for release July 3, 2007. We're currently working on the fourth in the Art Lover's mystery series, entitled "Arsenic and Old Paint." We don't have a release date yet, but we'll be sure to post it when we do. In addition, we're working on the new midwife series, but again, don't have the release dates yet.
MLC: If you could write anything at all, ignoring what editors and publishers say they want, what would it be?
AUTHOR: Julie: Actually, we almost always agree with our editor in terms of actual changes to the manuscript – she really helps us to be clear and keep the action rolling. In the first books, especially, I wanted to include more art information on the theory that if it bored readers, they could just skip over it. In this last book she allowed us to include more information about the development of certain art techniques, etc. But again, we don't want to bore anyone and as an artist I can go off on a tangent for quite a while!
I would like to write a historical mystery with an artist's model for the main character, including real historical figures, but the publisher hasn't gotten excited about that one yet.
MLC: Do you have any words of wisdom for aspiring mystery authors?
AUTHOR: Carolyn: Keep writing! The hardest thing to do as an aspiring writer is to keep at it, no matter what. I believe that good writing will find its niche eventually – but that process can be quite long and drawn out. Remember when we said above that we received multiple rejections telling us that art doesn't sell? This was at the same time that the Da Vinci Code was all over the Bestseller charts, and Girl with Pearl Earring was made into a major motion picture.
Julie: You have to have faith in yourself and in your writing. Go to conferences and join writers' groups like Sisters in Crime to meet and mingle with published and aspiring authors. It's inspiring and educational. Join a critique group, or get your friends to read your work and comment. Writing can be lonely –find a way to connect with others who are struggling, as well. And, above all, love what you do. Your passion will come through in your writing, and that's what readers want to feel.
MLC: Do you have any teasers for your readers and fans about the next book?
AUTHOR: Brush with Death, coming out July 3, is set in an actual historic cemetery and columbarium—like a mausoleum for cremated remains. So there's a creepy aspect which is lots of fun. The relationship between Annie and Frank develops, as well. In Arsenic and Old Paint, Annie finds a connection between Chinatown tunnels and an exclusive all-male club on ritzy Nob Hill, and in this one the relationship between Annie and Michael takes an unexpected turn. We also introduce a new man from New Zealand, an international insurance investigator. Hmm.
MLC: If a genie suddenly appeared and said they would grant you just one wish for your books, what would you wish for?
AUTHOR: : Number one on the New York Times bestseller list! That's an easy one! Seriously, I think we both would like the books to do well, be carried by every public library, become favorites on bookshelves, and to stay in print.
MMLC: Please give us your website url and your email address where people can contact you.
AUTHOR: Our website is www.haileylind.com, and our e-mail is hailey@haileylind.com. We love to hear from readers and aspiring writers!
MLC: Thank you so much for giving us a little glimpse into your books and your life. We look forward to a lot more books from you.