Library
AMATEUR SLEUTH/COZY/ CULINARY/SOFT-BOILED MYSTERY
fitness kills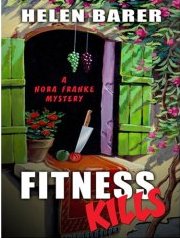 PROLOGUE
Saturday, early afternoon

He lay face down on the rocky slope, long legs splayed out at impossible angles, arms dangling awkwardly from their joints. His head was cocked to one side, as though he was listening to a distant conversation. From above, he looked a bit like a frog.
High on the narrow stone ledge from which he had fallen, his companion stood transfixed by the surprising speed at which both of their lives had been transformed.
Was he dead, or did he just knock himself out on the rocks? His ankle looked distorted -- maybe broken. Even if by some miracle he came to, and tried to pick his way down the knobby slope of the mountain to the safety of the spa, he'd never make it by sundown. It would be cold tonight. There would be animals roaming through the hills. And by morning, surely he'd be dead.
CHAPTER ONE Saturday afternoon



"Tilt that pelvis, pull in those abs, now squeeeeeeeze those buns. Keep 'em up there and lift, and lift, and lift. And five and six and seven and eight....."

I tried to block out everything but the tiny drill instructor's voice rising over the insistent beat pumping out of the speakers. The aerobic exercises hadn't gotten much easier to handle over the course of the two weeks I'd been working at the spa as a food consultant, and I thought everyone in the whole colorful garden of spandex could hear my gasping breaths.

I'd been desperate to run away from a dreary New York November. I needed to get some distance from my ex-lover, and (not incidentally) lose some of the 30-odd pounds I'd gained eating my way through the breakup.

Max and I were crazy about each other; we just couldn't live together. Our lifestyles – even the hours we kept – were so very different. And I could no longer handle his spoken and unspoken judgments of my weight, work and friends.

My best friend and agent, Judith Lewin, was thrilled with the solution she'd found for me: a two-month assignment as menu consultant at Rancho del Floras in Baja California. I was to pinch hit for their nutritionist of many years, who was on maternity leave. My job was to bring the spa's basically 1960's spartan vegetarian menu into the 21st century. Then I was to go home and write a Rancho del Flores cookbook. Guiding the staff through new recipes was part of the package, as was a four-times-a-week cooking demonstration class for the guests.

Judith had convinced the spa that my growing reputation as a food writer and restaurant critic would garner publicity and invite inquiries. So far, no one was complaining. Perhaps most importantly, to me at least, I'd already lost seven pounds, partly from not being able to overdose on bagels and chocolate mint chip ice cream, and partly from pushing myself through as many exercise classes as I had time for.

I'd never be a passionate exerciser, but I was faithful at least.

I hoped it would be worth the personal prices I was paying to be here: despite bravado in emails to friends and family, I was lonely. My ex-lover, Max, chronically thin, fit, squash-playing overachiever, mocked my escape to a 'fat farm'; my mother complained about my missing the family Thanksgiving orgy; and my long-time client, MetroScene Magazine, bemoaned my absence during the crazed pre-holiday season. At least I wouldn't have worry about having a date for New Year's Eve.

"Ahem."

I opened my eyes, startled. Standing several miles above me was an elongated Giacometti sculpture. An impossibly long-limbed, long-braided blonde. Of uncertain age, but certain elegance.

"It's going to get pretty chilly in here, once the sun drops behind the mountain. Best rise before your sweat congeals." Her voice, a gravelly drawl, was softened by amusement.