Bookstore
SUSPENSE/ARCHAEOLOGY THRILLER
The Armageddon chord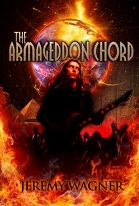 Buy from Amazon
The Armageddon Chord is first and foremost a dark thriller. The tale of an ancient and Satanic song written in Egyptian hieroglyphics and later performed by a world-famous rock star who releases the Apocalypse makes for an amazing story that will delight and haunt readers.
Helmut Hartkopff, an Egyptologist, unearths a lost pyramid and discovers an ancient and evil song written in hieroglyphics. Festus Baustone III, a multibillionaire stricken with bone cancer, is funding Helmut's excavation in Egypt. The song was created to raise Satan and induce the Apocalypse. With the promise of immortality to anyone who awakens the song, Helmut and Festus seek out Kirk Vaisto, the "God of Guitar" to transcribe and play the song.
Mona, Festus' daughter, arrives to supervise Kirk's work. Kirk performs the song, for the first time, with her present. The music possesses them. They see horrifying images within Satan's song. The song finishes on a power chord and destroys Kirk's studio.
After playing the song for Helmut and Festus, they want Kirk to play the song in a live concert from Egypt to be broadcast via satellite for the entire world to hear. Kirk and Mona, now lovers, realize the horror in this plan. They arrange to escape to Maui. Helmut and Festus win out and coerce him to play.