Bookstore
AMATEUR SLEUTH/HUMOR/
CHICK LIT/ROMANTIC MYSTERY
drop dead delicious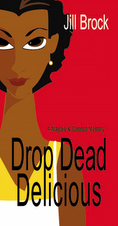 Odessa Wilkes wants to kill her embezzling ex-boss, who just resurfaces back in New York City . He stole money from their former employer and skipped town, leaving Odessa holding the blame. Her best friend and private investigator in training, Maggie Swift, tells her to let it go. Maggie is doing her best to learn the P.I. trade, even though she looks more like a pixie than Sam Spade. Working for an ex-cop, who loves the Atlantic City casinos more than finding a clue, Maggie is determined to learn all she can.
Starting a new life, Odessa is trying hard at a new career as a cake maker and dessert chef at her family's restaurant, The Blue Moon. Trying to outmaneuver her demanding sister, staying out of George the chef way, Odessa is hoping to keep her life drama down to a minimum. Unfortunately, Odessa ex-boss has other plans as he drags her and Maggie into the middle of a murder.
In their second outing, since Pennywise, Maggie and Odessa try to embrace their new careers, even when they're knee deep in mayhem, a jealous boyfriend, an amorous car dealer and the search for the perfect cake.
This is the second book in the Maggie and Odessa series.