Bookstore
AMATEUR SLEUTH/CRIME/
HUMOR/PARANORMAL/
ROMANTIC/SOFT-BOILED/
WHODUNIT MYSTERY
MAGGIE WITHOUT A CLUE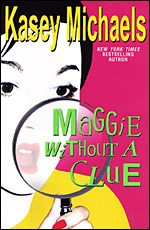 Buy from Amazon
New York Times bestselling author Kasey Michaels is back with another hilarious Maggie Kelly misadventure. This time, two of Maggie's friends are in big trouble – and Maggie may just be in over her head...

I've got a successful writing career, a great apartment, two hot guys... and all I want to do is curl up on the sofa with my cats, a DVD, and a bag of Funyuns. What's wrong with this picture? I should be reveling in my freedom – and/or in the company of Alexandre Blake, Viscount St. Just, the all-too-real hero of my historical mystery novels. Problem is, ever since Alex and his sidekick, Sterling, materialized in my living room, I've been dodging dead bodies. Of course, the random acts of violence have had the less dubious benefit of introducing me to thoroughly modern (and cute!) NYPD detective Steve Wendell, but still. Playing amateur sleuth and roomie to two Regency gents can get pretty exhausting. So how ecstatic was I when Alex and Sterling got a deal on a rent-controlled place across the hall? Ah, sweet solitude. Naturally, it couldn't last. My first morning alone, I get a hysterical call from my recently widowed friend and publisher, Bernie Toland-James. Recently widowed, as in she just woke up next to the bloody corpse of her estranged husband...

See? This is what I'm talking about. I used to count my life adventures in successfully avoiding my mother's phone calls. Now I keep on my toes by getting my friends out of murder raps. Things definitely don't look good for Bernie. She'd made no secret of the fact that she wasn't too broken up when Buddy "disappeared" seven years ago – but she's no killer, and I intend to help prove it. Meanwhile, Sterling's been on the receiving end of some weird threats. Threats none of us were taking seriously until some thugs vandalized his and Alex's apartment, slashing up their beloved "plasma-flat-screened-television machine."

As if that weren't enough to prompt some serious gauntlet-throwing, now someone's actually kidnapped dear, sweet Sterling, leaving a ransom note that's at best cryptic, and at worst, badly misspelled. Talk about rubbing a writer the wrong way...

OK, this case just got seriously personal. Messing with my friends? Bad move. Messing with my friends while I'm going through nicotine withdrawal? Watch out, mister. What with trying to help Bernie and Sterling, trying to quit smoking, trying to evade my therapist's more pointed questions, and trying to meet the deadline for my latest St. Just novel, I'm edgier than J.Lo's wedding planner. Then there's the new habit I've developed of kissing Alex. And kissing Steve. Repeatedly. Yeah. With the clock ticking on Bernie's freedom, Sterling's safety, and, very possibly, my own sanity, I'd better get down to business with both my detectives (no, not that kind of business... well, maybe a little) and get a clue – before my mother finds out what I've really been up to...