Bookstore
CRIME/HARD-BOILED/
POLICE PROCEDURAL MYSTERY
DEAD GAME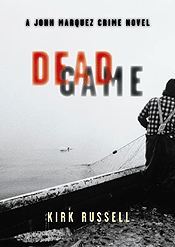 Buy from Amazon
There's only one reason for the illegal killing of so many sturgeon—caviar. And behind the highly profitable trade in caviar is the Russian mafia, dealing in things much more dangerous than fish eggs.

John Marquez is closing in on the sturgeon poachers when his key confidential informant disappears. Marquez and his understaffed team—which is slated for shutdown by top brass—search frantically for the informant in their remaining weeks, while also pursuing the poachers and tangling with the Russian mob and the FBI.

Fast-paced, thought-provoking, and vivid, this eco-thriller pushes the tough but sensitive Marquez to the limit. Deadgame is a tale of unforgettable action and complex human emotions.