Bookstore
CRIME/HARD-BOILED/
POLICE PROCEDURAL MYSTERY
NIGHT GAME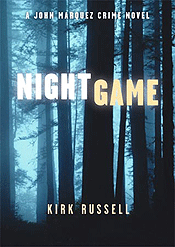 Buy from Amazon
Tough, caring, and distinctive John Marquez is back. A former DEA agent who is now the head of the special operations unit of the California Department of Fish and Game, Marquez brings gritty investigative techniques and a clouded past to his role in enforcing the poaching laws of California.

In this gripping new crime novel, former federal drug agent Marquez again pushes the boundaries of safety and politics when he takes his team of Fish and Game officers on a dangerous operation in pursuit of bear poachers. A murdered student, a missing game warden, and threats to his own family draw Marquez even more deeply into the tangled world of international traffickers and local thugs. At the center of his investigation is a wildly attractive and highly unreliable woman who sets some traps of her own.

Night Game hits hard and moves fast toward a finish that ricochets through wilderness, backwoods towns, and the darker recesses of love and greed. A second novel that delivers—and firmly establishes—a great series.