Bookstore
AMATEUR SLEUTH/COZY/
CRAFTS/CRIME/HOBBIES/
HOLIDAY/HUMOR/WHODUNIT/
SOUTHERN MYSTERY
fiber & brimstone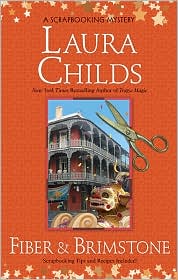 Buy from Amazon
Building a Halloween tale around the #1 craft in America today, author Laura Childs sets the stage with scrapbooking maven Carmela Bertrand and her friend Ava creating giant puppets for the French Quarter's Monsters and Mayhem parade. But as blood-curdling screams pierce the night, they soon discover that the captain of the float den has been stabbed by the razor-sharp horns of a giant Minotaur head!

Police quickly cast blame on Carmela's float-building friend, Jekyl, even though she's convinced of his innocence and vows to find the real killer. But this is Halloween in New Orleans, an ethereal bewitched city where ghostly intruders are at work. Carmela soon finds herself pursued by a swamp monster, encounters a second gruesome murder at the Ballet Dracula, rubs shoulders with the mysterious Mr. Bones, and ends up an unwitting prisoner in a parade of hearses!

Fiber & Brimstone blends crafting, the vibrancy of New Orleans, spooky cemeteries, vampire crawls, scrapbook tips, and delicious Southern recipes into this 8th book in the bestselling Scrapbooking Mystery series.