Bookstore
AMATEUR SLEUTH/CATS/
CHICK LIT/COZY/HUMOR MYSTERY
death of a trophy wife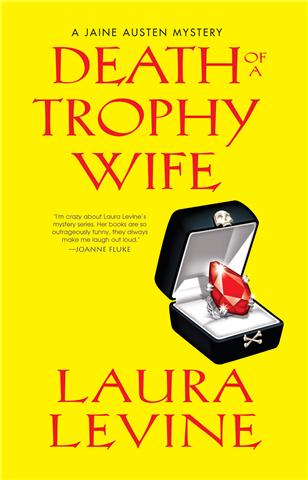 Buy from Amazon
Freelance writer Jaine Austen is moving on up! A cushy new advertising gig promises champagne wishes and caviar dreams, but Jaine soon discovers she's not the only one in town who's making a killing…

Without a job or a date in sight, Jaine is equally out of luck in finance and romance. So when her friend Lance offers to treat her to brunch at the Four Seasons, Jaine leaps at the chance like a fashionista at a pair of half-price Louboutins. They've barely made it through the menu when Lance spots his friend Bunny. Dressed like a million bucks—and probably worth twice that—Bunny is the new trophy wife of mattress maven Marvin Cooper.

When Bunny generously offers Jaine a gig writing Marv's new advertising campaign, Jaine accepts the job, and an invitation to her upcoming soirée. But at the party Bunny cruelly rules the Cooper mansion with a fist full of martinis, abusing terrified staff and her browbeaten husband alike. It seems like this society girl could use a good kick in the assets. Indeed, before the evening is over, someone poisons the D-cup diva. Dead must be the new black.

The police arrest Lance, but Jaine knows his murderous urges end at her closet door. She sets out to clear his name and discovers a list of suspects longer than Bunny's credit card bill. Did Mattress Marv get tired of his little bunny hopping into another man's bed, or did a jealous boy-toy fix her a fatal cocktail? Marv's ex-wife Ellen has plenty of motives for murder, as does Bunny's harassed maid Lupe. Or was it Bunny's seething stepdaughter who sent her to that Great Shopping Mall in the Sky?

Jaine is running out of time. Jobless, Lance is losing his mind and taking it out on Jaine's apartment, wardrobe, and indignant cat Prozac. And before Jaine can say 9021Oh-no someone else is murdered. Between a house guest that won't leave, a suitor-turned-stalker, and killer on the loose, Jaine's jackpot may turn out to be fool's gold.