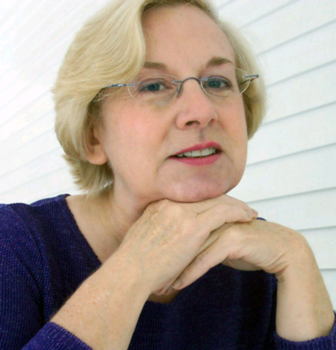 MLC: Do you remember the first mystery you ever read? If so, what was it, and what pulled you into it?
AUTHOR: I don't remember! I do know the author's name began with an A, though, because when I was in high school I worked after school at my local library and I read my way through the mystery shelves there!
MLC: When did you first decide you wanted to write a mystery, and what led you to that decision?
AUTHOR: I was driving to New York State to set up my booth at an antique show and suddenly thought that an antique show was like a play … each dealer designed their own set, and played their own role for a weekend, and had interactions with each other and with customers, and then that world was torn down and disappeared. It was like an Agatha Christie "house party in the country" in which someone is murdered, and you know it must be someone in the house. So I decided to play with the idea of having a murder at an antique show. That became "Shadows at the Fair."
MLC: Do you write in any other genres? If so, which ones?
AUTHOR: I write historical novels set in 19th century America for ages 7 and up.
MLC: Which comes first for you, the plot or the characters?
AUTHOR: The setting is often the first piece of the puzzle that becomes my book. And the time frame. Right now I'm writing a book set in Edinburgh, Scotland. I decided first to write about the Highland Clearances; then to have my characters move to Edinburgh (on their way to America.) I determined the year by historical events, and the plot and the characters grew out of that. For my contemporary stories, my characters and their settings come first, and then the plots.
MLC: When you are all wrapped up in the story, do you feel like you could solve the crime, or maybe even solve all the world's mysteries?
AUTHOR: I wish! No; I'm a writer, and I have enough trouble helping my protagonist solve mysteries!
MLC: Do you write every day, or what kind of a schedule do you have? Do you write fulltime, or do you have a "day job"?
AUTHOR: For thirty years I worked for AT&T, so then there definitely was a day-job, and I wrote late at night, after my children were in bed. Now I write full-time, although I also have an antique print business, as does my contemporary mystery protagonist, Maggie Summer. My writing life breaks down into about 30% preparation for writing (research, planning, thinking, outlining,) 30% writing and editing, and 30% marketing and promotion. The other 10% is left for tearing my hair out when I have to do all three at once! When I'm writing I try to write 10 pages a day. But there are weeks when I'm doing research or marketing and cannot write, unfortunately.
MLC: Other than your writing, what do you enjoy doing? What is the most important thing to you in your day-to-day life?
AUTHOR: Spending time with my husband! He's the man I've loved since we met when I was 22 and he was 23. But for a long series of reasons and issues we've only been married 4 years, and I've cherished every minute of that time. Since we're older now, I know we won't have the years together than many couples have, so we want to make the most of this time. Luckily, he is my biggest fan, and totally supportive of my writing. I also love time alone – reading, or rowing on the river across the river from our home in Maine. And visiting my six-going-on-seven grandchildren and my four daughters. My husband and I also enjoy good food and wine and indulge a bit too often – for our weight and our credit cards!
MLC: Who are your favorite mystery authors? Do you try to emulate them in your own writing?
AUTHOR: When I started writing mysteries in the mid to late 1990s my favorite mystery authors were Susan Wittig Albert, John Dunning, Deborah Crombie, Sue Henry, Anne Perry – wonderful authors, all. But now my tastes have gotten a little darker, and I read Minette Walters and SJ Rozan and Barbara D'Amato and Jonathan Kellerman. One author I very much respect is Sharyn McCrumb and her ballad series. I envy her ability to evoke the past and the present simultaneously. I doubt if my books will ever get as dark as any of these, but I believe they will continue to involve issues as well as crimes.
MLC: In your present book, is this part of a series, or is it a standalone book?
AUTHOR: SHADOWS ON THE IVY is the third in the Antique Print Mystery Series which started with SHADOWS AT THE FAIR, and then went to SHADOWS ON THE COAST OF MAINE. It is followed by SHADOWS AT THE SPRING SHOW. All four of the books take place in one year of Maggie Summer's life.
MLC: If you are doing a series, do you see an end to it sometime, or do you plan to go on for several years with it?
AUTHOR: I had originally planned for the series to be 6-8 books, but my publisher, Scribner, ended the series after four books when my editor retired. There is still one publisher interested in picking up the series, though, so I can't predict where it will go in the future. There are unresolved issues in Maggie's life after 4 books, and every day I get letters from readers asking me to resolve them.
MLC: Do your characters ever drive you a bit crazy by going off in their own direction? If so, how do you rein them in, or do you just let them run off on their own?
AUTHOR: I let them run a little, but they have to stay within my outline, or I run over my page allotment!
MLC: Do you pattern your sleuths after yourself or someone you know? If so, do you let that person know they were your "pattern"?
AUTHOR: My sleuths are their own people. But many people have assumed that I am Maggie and that my husband is Will. Just because I drive a blue van and have an antique print business and adopted four older girls and drink Dry Sac sherry and my husband has a beard! People have such crazy ideas . . . !
MLC: How long did it take you to get published? How many rejections did you have to suffer through first? Were you ever tempted to give up? What do you think made the difference when it was accepted?
AUTHOR: Shadows at the Fair was rejected by 40 of the best agents under the title KILL ME QUICK BEFORE I DIE, which I thought was brilliant. I then filed the manuscript in my bottom drawer, the home of unpublished novels. I pulled it out several years later when a casual conversation with the editor of my children's books led me to send it to an editor at Scribner, who loved it, and the next year it was a Agatha finalist for Best First Mystery. So – never give up!
MLC: Do you ever attend any conferences? If so, which ones?
AUTHOR: It depends on my budget, and on whether I have a new book out. Usually I go to Malice Domestic, to Left Coast Crime, and to Bouchercon. I've also gone to Sleuthfest, Deadly Ink, Murder in the Magic City, and an assortment of other conferences for mysteries, and for children's literature and historical novels. I list my current year's schedule on my website (http://www.leawait.com) under "on the road."
MLC: Do you have to promote your own work, or does your publisher do that for you?
AUTHOR: Publishers don't do very much for most authors any more, unfortunately. I spend a lot of time trying to let people know about my books.
MLC: If you have to do marketing, what methods have worked the best for you?
AUTHOR: I send a postcard to anyone who would like to hear when I have a new book out. I now have a mailing list of over 2500 people. If anyone reading this would like to be on that list, have them send me (leawait@clinic.net) their snail mail address. I also do a lot of school visits and library and conference talks.
MLC: Do you have any idea how your book is selling?
AUTHOR: My editors can usually get me statistics between royalty statements, so I have a pretty good idea of what is working and what is not.
MLC: What has been the best review you have gotten, and why?
AUTHOR: I've been very lucky to have gotten some wonderful ones! Marilyn Stasio of the New York Times has praised all of the Shadows books, and the Portland Press Herald, in Maine, called me "the Agatha Christie of today." That was pretty cool!
MLC: Have you won any awards, either as an author or for your books? Please tell us about them.
AUTHOR: Shadows at the Fair was a finalist for a Best First Mystery Agatha. And all of my books for children have been on Student Choice Award Lists throughout the country and have been recommended by groups like the Bank Street College and the International Reading Association and Smithsonian Magazine.
MLC: Is there any one certain thing that a reader has written to you that made you just want to jump up and shout "Yes!!!!"?
AUTHOR: I love it when a reader of the Shadows series tells me she has just attended her first antiques show because she has read one of my books! Or – even better! – that she is considering adopting an older child. I tear up over that sort of note.
MLC: What is your next project, and when will it be out?
AUTHOR: I've just finished an adult mystery called JUSTICE & MERCY set in 1865 New York State. My agent is excited, so I hope an editor somewhere will be, too!
MLC: If you could write anything at all, ignoring what editors and publishers say they want, what would it be?
AUTHOR: I don't think there would be a large difference from what I'm writing now – just a difference in what is being published! I enjoy writing historicals, so there might be more of those. And perhaps fewer pages in that large bottom drawer for the unpublished manuscripts.
MLC: Do you have any words of wisdom for aspiring mystery authors?
AUTHOR: Read, read, read. And edit. And edit. And edit. Someone once said there are no great writers – just great re-writers. He or she was right. And don't follow trends exactly, because by the time you write YOUR brilliant vampire story, vampires (for example) will be OUT and werewolves (or whatever) will be IN. Just write the best story you can. There are some excellent books on writing, and they can head you in the right direction, as can mystery organizations such as Sisters in Crime. But the hardest work is sitting down and doing the writing. And the re-writing.
MLC: Do you have any teasers for your readers and fans about the next book?
AUTHOR: JUSTICE AND MERCY is about a disabled Civil War veteran who falls in love with a woman who, with others, has taken unfair laws into her own hands in the absence of men during the Civil War.
MLC: If a genie suddenly appeared and said they would grant you just one wish for your books, what would you wish for?
AUTHOR: Front of store placement at bookstores nationwide!
MMLC: Please give us your website url and your email address where people can contact you.
AUTHOR: http://www.leawait.com is the website; email address is leawait@clinic.net
MLC: Thank you so much for giving us a little glimpse into your books and your life. We look forward to a lot more books from you.
AUTHOR: Thank you, Dawn! It was fun!
More information from Lea:
I live on the coast of Maine. For most people that conjures up visions of lighthouses and lobsters and moose and breakers hitting high rocky shores. And those pictures are indeed part of my Maine. It's hard to live in Maine during the summer and avoid signs for "Best Lobstah Rolls - Here!" and "Maine Tee Shirts - Cheap!" and "Twenty six miles to LL Bean!" I'm also an antique print dealer — as is Maggie Summers, my protagonist in the Shadows Antique Print Mystery series — so I also smile at the "Antiques, Used and New" signs, and the "Vintage Clothing" stores, and the "Auction! Here! Saturday night!" signs. I also "Brake for Flea Markets" sometimes.

But Maine has been a part of my life long enough for me to also know about the folks who drink too much in their trailers, who depend on moose hunting to supply meat for the winter, whose teenagers drop out of school to dig for sea worms for a living or work as chambermaids, and who resent the rich folks with out of state license plates who seem to spend money so freely and then leave when it's time to board up for winter. Most Mainers work 2 or 3 jobs, summer and winter, to make a living. At least 1 or 2 of those jobs likely depend on the tourist industry.

When I speak in Maine classrooms, I'm usually introduced as a "Maine author." I clear that up right away, because I know in Maine distinctions are important. I admit that, although I live here now, I was born in Boston. After one school visit a small boy ran after me, tugged on my sleeve and admitted in a whisper, "It's all right. I was born in Boston, too." You never can really make up for not being born a Mainer. You'll always be "from away," and he and I both know it. (If you live on an island, you're even more planted — you refer to anyone not from your island as an "off islander".) Someone who moved to Maine from another state recently — say, within the last twenty-five years — is a "transplant." It's not an insult. People introduce themselves that way.

So — I live on the coast of Maine. But I'm not a Mainer. I was born in Boston, and I'm from away. I was a summer person for fifty years or so, and now I'm a transplant from New York City and New Jersey. It's good to lay the facts out the way they are. No pretenses.

Last summer I was walking with my husband down a quiet dirt road near my home. A car pulled up to us and an elderly woman leaned out of the driver's seat and advised us, "You folks are walkin' too close to the middle of the road. You'll be killed." Well, perhaps the way she was driving that might have been a possibility. I thanked her for her advice. She paused a moment. Then she asked. "You folks from around here?" I said, "I'm Lea Wait, from the white house up on the corner of Eddy and Clifford Roads." She looked at me up and down for a moment and said. "You used to go to church Sundays with your grandmother. I haven't seen you there recently. You've changed some. Your grandmother died, didn't she?" "Yes, she did," I responded. "In 1967." "Well, she was a good lady. It's nice seeing you again." "Good seeing you, too," I answered. And she drove on.

My husband just stared, but I knew it was all right. I had passed muster. I belonged. I wasn't a Mainer, but I was part of the community.

I don't remember when the smell of saltwater breezes didn't remind me of home, and I remind myself daily of how lucky I am to live in this wonderful state. But I never fool myself that I am a Mainer. Never was; never will be. And it's all right. Boston wasn't a bad place to have been born

Lea Wait

www.leawait.com
(re: books)

www.mahantiques.com
(re: antique prints)
most recent book: FINEST KIND