Bookstore
AMATEUR SLEUTH/
CULINARY MYSTERY
THE CORNBREAD KILLER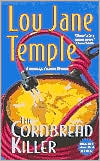 Buy from Amazon
From Library Journal
Restaurant-owner, chef, and part-time sleuth Heaven Lee mixes herself up with trouble in Kansas City--again. When a blackmailing events planner for an upcoming neighborhood black heritage celebration dies under suspicious circumstances, several members of the celebration committee--including Heaven's good friend Mona--squirm with nervousness. Add to this mix several returning jazz musicians with old grudges, a jealous former star of the black baseball league, and at least two musical imposters, and Heaven has her hands full. An abundance of interesting action, characters, and recipes will place this high on the acquisitions list.
Copyright 2000 Reed Business Information, Inc.