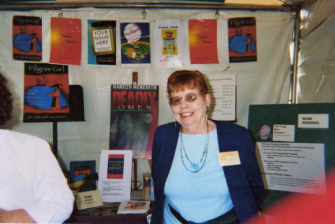 MLC: Do you remember the first mystery you ever read? If so, what was it, and what pulled you into it?
AUTHOR: I know it was a Nancy Drew mystery, but I don't remember what pulled me into it. My parents always gave me books for Christmas, usually three and I always finished reading them before the day was over, which upset my mom. But when you have three mysteries, how can you not read them one right after another?
MLC: When did you first decide you wanted to write a mystery, and what led you to that decision?
AUTHOR: My first two published books were historical family sagas based on my family genealogy. Believe me, it was like solving a mystery trying to find out through research why my ancestors moved from one place to another so often. Once I was done, I thought about what I should write next. Since what I always read were mysteries, I decided that would be my next project.
MLC: Do you write in any other genres? If so, which ones?
AUTHOR: Yes, I do write in other genres. I've written three Christian horrors and a ghost story. (Because everyone always asks what on earth is Christian horror, I'll tell you. They are really scary tales where the main character or one of the main characters is Christian.) I also have a psychological suspense called Wishing Makes It So that will be coming soon from Hard Shell Word Factory.
MLC: Which comes first for you, the plot or the characters?
AUTHOR: Definitely the characters come first. With my Deputy Tempe Crabtree series, of course I know who the main and continuing characters will be, then I must create the most important ones for each novel, the murder victim and the murderer.
MLC: When you are all wrapped up in the story, do you feel like you could solve the crime, or maybe even solve all the world's mysteries?
AUTHOR: What's interesting, even though when I begin a novel, I think I know who the murderer is going to be and how it will be solved, as I'm writing sometimes I realize that the person I thought would do the evil deed wasn't the right person, instead someone else pops up who is far more likely to have done it. It's interesting how characters take over when I'm writing and I know this happens to other authors too. Though I often can figure out "who done it" in famous cases as they are unfolding in the newspaper, that isn't a great feat, since in real life it is usually much more obvious than in fiction.
MLC: Do you write every day, or what kind of a schedule do you have? Do you write fulltime, or do you have a "day job"?
AUTHOR: I write mornings usually. Though I don't have a "regular day job", I do writing projects for other people that are not fiction. I also teach a writing class twice a month.
MLC: Other than your writing, what do you enjoy doing? What is the most important thing to you in your day-to-day life?
AUTHOR: I have a big family. Two of my grown children live nearby with some of their grown children also close and even several great-grandchildren. I love it when some of them pop in to visit. Thanks to e-mail, I'm in touch with many of the others on a regular basis.
MLC: Who are your favorite mystery authors? Do you try to emulate them in your own writing?
AUTHOR: The one that I admire the most is James Lee Burke because of his wonderful descriptions of place and characters. Jan Burke is another one I really enjoy. I'm also fond of Radine Nehring and Mary Welk. And no, I don't try to emulate any of them. I hope that I have my own unique voice.
MLC: In your present book, is this part of a series, or is it a standalone book?
AUTHOR: Wingbeat is the latest in my Deputy Tempe Crabtree series. The next one due out around September is titled Calling the Dead. There is a big gap in books because my publisher died unexpectedly. Finding a new publisher takes time. Bad Tidings is the latest in my Rocky Bluff PD series.
MLC: If you are doing a series, do you see an end to it sometime, or do you plan to go on for several years with it?
AUTHOR: In the case of the Deputy Crabtree series, I have another book done and am working on yet another. I have more lined up in the Rocky Bluff series too. I'd like to go on with both of them until I run out of ideas.
MLC: Do your characters ever drive you a bit crazy by going off in their own direction? If so, how do you rein them in, or do you just let them run off on their own?
AUTHOR: It doesn't drive me crazy that the characters run off in their own direction. To me that is one of the fascinating phenomena that makes writing so much fun. I feel like I know my main characters better than I know my friends and relatives. After all, I know what my characters are thinking and feeling, I can only guess with real people.
MLC: Do you pattern your sleuths after yourself or someone you know? If so, do you let that person know they were your "pattern"?
AUTHOR: Since Deputy Tempe Crabtree is only in her late thirties now, part Native American, tall, with long black hair, I must confess she definitely isn't my alter ego. The way she looks though, is after a Native American female artist that I'm acquainted with and yes, she knows and has read my books. The deputy part of Tempe is patterned after two female law enforcement officers that I know. The first was a resident deputy I interviewed for a personality piece. The second, police officer that I did a ride-along with. From the hours of 2:30 a.m. until 6 a.m. she didn't receive a single call and we drove around and she bared her soul about being the only female in her department.
MLC: How long did it take you to get published? How many rejections did you have to suffer through first? Were you ever tempted to give up? What do you think made the difference when it was accepted?
AUTHOR: I didn't get serious about trying to get published until I was in my mid thirties. With my first book, I received nearly thirty rejections before it was accepted. This process took years because it was back before computers and every time I worked on the book it had to be retyped. The manuscript had to be sent out in a box with a return box. No, I didn't give up, I just kept thinking it wasn't good enough yet and needed more work. It took a long time to get the second book accepted too. My big advice to everyone is if you really want to be published, don't give up. I also was willing to try a small, independent publisher who published my first mystery and then my Crabtree series.
MLC: Do you ever attend any conferences? If so, which ones?
AUTHOR: Conferences are great for authors. It gives the writer a chance to talk to readers and other writers—and to have fun. I've made friends with so many people at mystery and writers' conferences. I've attended Left Coast Crime, Bouchercon, Malice Domestic, Murder in the Grove and my very favorite, Mayhem in the Midlands. EpiCon, the conference for electronically published writers and Public Safety Writers Conference for those authors involved with law enforcement and other public safety fields, and the Northcoast Redwood Writers conference. At the last three conferences I've given workshops.
MLC: Do you have to promote your own work, or does your publisher do that for you?
AUTHOR: I've always had to promote myself—and I think most authors do. Promotion takes a lot of time. Besides conferences, I do library talks, book signings, book and craft festivals and spend a lot of time on the Internet doing promotion.
MLC: If you have to do marketing, what methods have worked the best for you?
AUTHOR: When a book first comes out, having a launch party at some special place works well for me. I've had launch parties at our local posh restaurant/inn, in a recreation center, an art gallery and at my home. I also find if I can give a talk, I'll sell lots of books. When a book first comes out, sometimes I'll send out a flyer with an order blank attached, and I've done well with that.
MLC: Do you have any idea how your book is selling?
AUTHOR: Because my publisher died, her husband brought me all the books she had so now it's up to me. This is a difficult process, because she didn't have the books with a distributor, so I've had to do it all.
MLC: What has been the best review you have gotten, and why?
AUTHOR: A reviewer (and a fellow author) for Crescent Blue, Patricia Lucas White, always gives me glowing reviews for the books in the Tempe Crabtree series. She really likes Tempe and says so over and over. I've also had good reviews from Harriet Klausner, Midwest Book Reviews and many other places.
MLC: Have you won any awards, either as an author or for your books? Please tell us about them.
AUTHOR: Wingbeat won Best Mystery from the American Authors Association, Guilt by Association, The Publisher's Choice for Best Mystery, Intervention received a Bloody Dagger award, and I two of my books, Deadly Trail and Kachima Spirit were finalists for Eppies.
MLC: Is there any one certain thing that a reader has written to you that made you just want to jump up and shout "Yes!!!!"?
AUTHOR: A Native American from our local reservation (someone I've never met but had heard about) called to let me know that he'd read Deadly Omen which is about a murder at a Pow Wow and a lot of the action goes on at my fictional reservation. Needless to say I was a bit nervous since I'm not Native American. He said, "I just wanted to let you know that you got it right." I was absolutely elated. It is a big scary to write about a culture you are not a part of, I certainly don't want to offend anyone.
MLC: What is your next project, and when will it be out?
AUTHOR: Wishing Makes it So is due out anytime from Hard Shell. It's very different from my series mysteries. It's much darker than what I usually write and it's based on something that I went through years ago—though of course, it's fictionalized and my experience was not quite so harrowing. Mundania Press is publishing Calling the Dead in September.
MLC: If you could write anything at all, ignoring what editors and publishers say they want, what would it be?
AUTHOR: I already do that and is exactly the reason why I've had a hard time finding a publisher for some of my work. A big example is the Christian horror novels. The Christian publishers all liked my writing but said the subject matter was too "horror-ible" for their readers, and the regular publishers said it was too Christian. The first one I published myself. I found a brave e-publisher, Treble Heart Books, (who also does trade paperback) to take a chance with the other two. Even my Deputy Tempe Crabtree stories deal with both Native American spiritualism and Christianity and bigger publishers shied away from the combination.
MLC: Do you have any words of wisdom for aspiring mystery authors?
AUTHOR: Learn the craft of writing first, read a lot of mysteries, and write from your heart. Don't ever give up.
MLC: Do you have any teasers for your readers and fans about the next book?
AUTHOR: I already did that for Wishing Makes It So. In Calling the Dead, a murder looks like a natural death, and a suicide looks like murder. Tempe goes against her pastor husband's wishes and calls back the dead to find out the truth.
MLC: If a genie suddenly appeared and said they would grant you just one wish for your books, what would you wish for?
AUTHOR: For more people to read them. I do have fans that are anxiously awaiting my next book, but the more the better.
MLC: Please give us your website url and your email address where people can contact you.
AUTHOR: My website is: http://fictionforyou.com

My e-mail address is: mmeredith@ocsnet.net

I also have an e-mail newsletter that comes out about once a month. It's chatty about what I've been up to and a little bit about my writing. If anyone would like to receive it all they have to do is send me an e-mail with subscribe in the subject line.
MLC: Thank you so much for giving us a little glimpse into your books and your life. We look forward to a lot more books from you.