Bookstore
COZY/HUMOR/LEGAL/
WHODUNIT MYSTERY
LITTLE BOY BLUES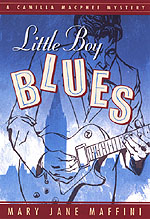 Buy from Amazon
Camilla MacPhee is finally getting a life. Her thorn-in-the-side, Alvin erguson, has a new job. Her meddlesome family is out of town. Camilla plans to party at Ottawa's Bluesfest, the huge open-air summer extravaganza, with her friend P.J. Lynch, not that he'd know a bass guitar from a beer mat.

Then Alvin's younger brother vanishes from a Canada Day crowd on the boardwalk in Sydney, Nova Scotia. Jimmy Ferguson, brain-damaged from a childhood accident, is far too childlike to survive on his own. Alvin is traumatized by his brother's disappearance. And Camilla owes Alvin big time. Plus she doesn't want him to lose that new job. Soon Alvin, Camilla, and Mrs. Parnell take the road trip from hell.

Sleuthing irritably about Sydney, Camilla manages to upset the usual quota of people, including Jimmy's frantic family and forlorn friends. She doesn't spare the parish priest or even the guy at the chip stand. Most likely, the Cape Breton Regional Police, especially one Sgt. Ray Deveau, won't be sending her any Valentines.

Why are the police so tightlipped? What secrets are the Fergusons keeping? And what the hell's eating Alvin?

All roads lead back to Ottawa where a killer with everything to lose waits to create havoc among the Bluesfest tents and happy swaying crowds.