Bookstore
AMATEUR SLEUTH/
COZY/CULINARY/HUMOR/
ROMANTIC/WHODUNIT/ CHICK LIT MYSTERY
SILENCED BY SYRAH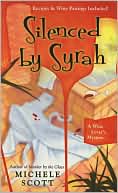 Buy from Amazon
As the vineyard manager at Malveaux Estates, Nikki Sands knows a lot about wine pairings, but she has a harder time making matches in her own life. Is it finally time to give up her crush on her boss, Derek Malveaux, and commit to winemaker Andres? With big changes afoot at the Estates, Nikki's days of wine and roses may be over sooner than she thinks...

Malveaux Estates has added a boutique hotel and spa to its beautiful grounds, and everyone in Napa is abuzz about the hotel's restaurant, Georges on the Vineyard. Its opening has been delayed a bit by the quirks of star chef Georges Debussey, better known for his cuisine than his couth. When Georges doesn't return to the kitchen after a relaxing Syrah bath splash at the spa on opening night, Nikki figures the bubbles must've gone to his head. But instead of bubbles, it was a bullet--leaving Nikki to wonder what kind of wine can be paired with murder...

INCLUDES RECIPES & WINE PAIRINGS!