Bookstore
REPORTER/
SERIAL KILLER/
SOFT-BOILED MYSTERY
media blitz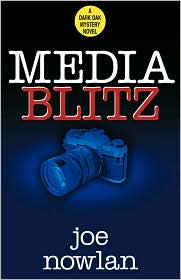 Buy from Amazon
Media bashing? How about media killing?

Everyone likes to clobber the media. But someone in Boston is going around killing them.

In Media Blitz, an obnoxious radio talk host … a too handsome TV anchor … and the host of yet another talk radio show all die violently.

Strolling innocently into this murderous confusion is Ben Hudson, a photographer for a weekly newspaper, and hardly anyone's idea of a media celebrity.

Hudson (weak stomach and all) accidentally discovers two of the bloodied corpses of what the newspapers and TV call "The Boston Media Blitz." He also becomes involved with TV newswoman Charlotte Kimball, beautiful, witty and set on uncovering the murderer.

This string of grisly killings of media figures has half the city wondering who'll be next—and the media haters wondering, "Gee, why didn't I think of that?"

As the media body count rises, one fearful type wonders "Wouldn't a really angry letter to the editor been better?"

Media-bashing was never like this.