Bookstore
AMATEUR SLEUTH/CATS/
CULINARY/POLITICAL/
ROMANTIC MYSTERY
MURDER A LA CARTE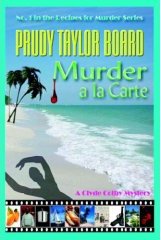 Buy from Amazon
Clyde Colby is the host of a Miami-based TV cooking show. She—yes she—was also an accomplished investigative reporter earlier in her career. When on assignment at the Far Horizons beach resort on Rattlesnake Key to do a show featuring acclaimed chef Henri Doucette, she finds new friends, a lover—and murder.

The delicious web of conspiracy grows more intricate and elusive as more bodies turn up, a newspaper reporter is savagely beaten, and one of the resort's maids—who has befriended Clyde—mysteriously disappears. Clyde is determined to unravel the sinister happenings at Far Horizons, or as the locals call it, the infamous Last Resort. Yet she has no idea what peril awaits her.

This is a succulent treat for all mystery-suspense lovers, spicy and delectable in every twist and turn. It will leave you hungry for more ~ and includes recipes for the fine dishes the chef creates for Clyde's TV show.