Bookstore
COZY/GENEALOGY MYSTERY
THICKER THAN WATER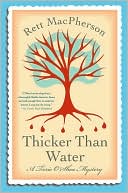 Buy from Amazon
When genealogist Torie O'Shea returns home to New Kassell, Missouri, from a vacation in Minnesota, she finds two surprises: first, her mother-in-law is coming to town, and second, her mentor and boss, Sylvia, has finally passed away at the age of 102. Grief-stricken and further distressed by her mother-in-law's unannounced visit, Torie is dumbstruck when she learns that Sylvia has left all of her worldly possessions to Torie including the Gaheimer House, which houses the local historical society. With gigantic boxes of artifacts and paperwork dating back to the 1920's to sort through, Torie is quite overwhelmed.

But cleaning out Sylvia's things, she finds something strange: an old postcard from the late twenties, addressed to Sylvia, with a photograph of a little girl on the front and an ominous message on the back. Torie quickly becomes determined to uncover the truth behind the mysterious photograph. Who is the little girl? And where was the photograph taken? Unable to make sense of her discovery, Torie's suspicions deepen when she learns that Sylvia hired a private detective and installed a security system just prior to her death. Was Sylvia's death natural or intentional? As Torie resolves to find out the truth, she learns that some of the people in her town are not necessarily what they seem to be, and it becomes clear that somebody wants her silenced.

Filled with the intricate stories and engaging characters that have come to characterize her mysteries, once again, Rett MacPherson delivers a fascinating story that promises to delight fans and newcomers alike.