Bookstore
COZY/GENEALOGY MYSTERY
A VEILED ANTIQUITY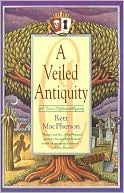 Buy from Amazon
Torie O'Shea investigates the tangled roots of an ancient family tree.

Torie O'Shea--genealogist and amateur sleuth--is having a killer of a day. The town gossip spreads the word that her sweet wheelchair-bound mother is having an affair--with the sheriff! Then quiet Marie Dijon is found dead at the foot of her basement stairs. Did she fall? Was she pushed? All Torie knows is that Marie had a family tree with royal roots completely foreign to a folksy Middle America town like New Kassel, Missouri. As foreign as, say...murder.

But nosiness in New Kassel is as native as the upcoming Oktoberfest. To Torie, the open door to Marie's house is more tempting than chocolate. Finding a hidden key and old documents in French make further investigating irresistible. But while juggling her growing suspicions, a hectic job at the historical society, two kids, and a sexy husband, Torie overlooks the obvious. Curiosity killed the cat. Someone killed Marie Dijon. And now Torie might know too much to live...