Bookstore
COZY/WHODUNIT/
ACADEMIC/HISTORICAL/
AMATEUR SLEUTH MYSTERY
OUT OF THE RUINS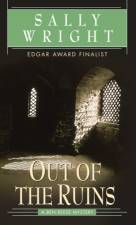 Buy from Amazon
Historic families have owned Georgia's Cumberland Island ever since the Revolution, but by 1961 only the Hill family's survived, and they're at risk too. Charlotte, the family matriarch, has died suddenly and mysteriously, leaving her sister-in-law, Hannah, to protect the idyllic wilderness. Hannah's bedridden with MS, however, and the younger generation hasn't inherited their devotion to the land, which is threatened now by developers and government takeover as well.
A death occurs from natural causes, but Ben Reese (archivist, ex-World War II scout, Hill family friend) knows appearances can be deceiving. There's no dearth of suspects, who've circled the deceased, coveting Cumberland, caught fast in troubles of their own devising.
Displaced descendants of Revolutionary War hero Nathanael Greene believe they have a right to Hannah's inherited land, among them a self-seeking real estate agent who has profitable plans for Cumberland. National park bureaucrats, opposed by Hannah but pressed by a local politician, are threatening to take Cumberland by right of eminent domain. Other islanders hide questionable pasts involving arson and mercy killing.


The investigation takes Ben to Savannah and Charleston and points north, as he works to unravel a tightly woven tangle of good and evil-obsession that's complicated by the controversies pressuring the souls on Cumberland, forcing Ben to take sides.