Bookstore
COZY/WHODUNIT/
ACADEMIC/HISTORICAL/
AMATEUR SLEUTH MYSTERY
PURSUIT AND PERSUASION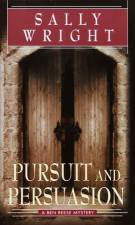 Buy from Amazon
Georgina Fletcher is a private, self-contained, contemplative Scotswoman, a widow, and an English professor at Aberdeen University. The day before she dies, she writes an alarming letter to her heir (the American daughter of her oldest friend) and arranges to have it posted in the event of her death.
"...I have reason to believe that my death was desired, planned and perpetrated with great care and deliberation. Even if I am right, the circumstances of my death will appear to have been brought about by natural causes..."
Georgina is anything but a fool, and it happens just as she'd feared. She's also punctilious and ethical, and won't name the person she suspects. Her assumptions are based on speculation, and she refuses to risk condemning any innocent person. She asks instead that her heir, Ellen Winter, hire a detective to investigate her death, free of her own prejudices.
Ellen is one of Ben Reese's archival apprentices at Alderton University, so she knows he's an ex-World War II Scout who's solved other murder cases and is in Scotland on sabbatical. She'd much rather ask Ben to help than use some unknown detective.