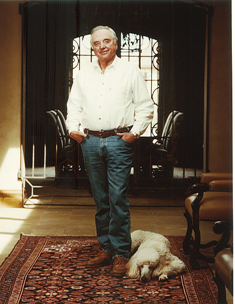 MLC: Do you remember the first mystery you ever read? If so, what was it, and what pulled you into it?
AUTHOR: Sherlock Holmes "The Hound of the Baskervilles" and all his other Holmes' works.
MLC: When did you first decide you wanted to write a mystery, and what led you to that decision?
AUTHOR: I was introduced to a female detective in Washington D.C. I had never had much contact with the police although I had read a number of police procedurals and occasionally enjoyed cop shows on television. Mostly, I was intrigued by this detective. In my environment, she was exotic. Her world seemed strange and alien to my experience. Through talking with her I envisioned the character of Fiona FitzGerald. This woman was not of Irish ancestry, but I have a particular affection for the Irish, having been exposed to many American's of Irish ancestry when I worked for the New York Daily News as a kid in New York. As they say, I knew the turf and envisioned my police protagonist as a woman of Irish antecedents. I also knew the turf of elite Washington, having lived there and being part of the scene for many years. It was the perfect combination. Fiona is assigned only to those cases that deal with the power structure, Congressmen, Senators, Ambassadors, socialites, and the media.
MLC: Do you write in any other genres? If so, which ones?
AUTHOR: I do not write in any other genre. My novels are all mainstream and defy categorization. The Fiona mystery series is not my usual creative fare. I do write plays and short stories. One of the my plays "Dead in the Water" is a mystery play.
MLC: Which comes first for you, the plot or the characters?
AUTHOR: First comes the idea, then a roughed in plot, then the characters that will populate the story. Or visa versa. There is no set plan.
MLC: When you are all wrapped up in the story, do you feel like you could solve the crime, or maybe even solve all the world's mysteries?
AUTHOR: I never know how the story will end. If I did, I wouldn't write the book.
MLC: Do you write every day, or what kind of a schedule do you have? Do you write fulltime, or do you have a "day job"?
AUTHOR: I write every day, full time. I haven't had a day job for decades.
MLC: Other than your writing, what do you enjoy doing? What is the most important thing to you in your day-to-day life?
AUTHOR: My wife, my children, and my work in that order.
MLC: Who are your favorite mystery authors? Do you try to emulate them in your own writing?
AUTHOR: Georges Simenon and PD James are my absolutely favorites. I think I have been influenced more by Simenon whose characters are thoughtful and psychologically oriented.
MLC: In your present book, is this part of a series, or is it a standalone book?
AUTHOR: With the exception of my six mysterious so far in the Fiona series most of my books are "stand alone."
MLC: If you are doing a series, do you see an end to it sometime, or do you plan to go on for several years with it?
AUTHOR: Maybe.
MLC: Do your characters ever drive you a bit crazy by going off in their own direction? If so, how do you rein them in, or do you just let them run off on their own?
AUTHOR: Sometimes I rein them in, sometimes I let them do their thing.
MLC: Do you pattern your sleuths after yourself or someone you know? If so, do you let that person know they were your "pattern"?


AUTHOR: No. Fiona FitzGerald is an original, merely suggested by the live detective I told you about earlier.
MLC: How long did it take you to get published? How many rejections did you have to suffer through first? Were you ever tempted to give up? What do you think made the difference when it was accepted?
AUTHOR: I did not get my first book published until I was in my forties. I have been rejected so many times I have long ago lost count. Most of time I pay no attention and move on, I have lived long enough to see most of those who rejected me get fired or leave the business. They are almost always wrong. I never let them interrupt my work and eventually get everything published. Most writers believe they are rejected by oracles. Most of those who reject haven't got a clue.
MLC: Do you ever attend any conferences? If so, which ones?
AUTHOR: No.
MLC: Do you have to promote your own work, or does your publisher do that for you?
AUTHOR: I am never happy with my publishers promoting my work. After 27 novels published in 30 foreign languages, I have learned that they will only apply energy to the megahits, just like the movie business into which they have morphed.
MLC: If you have to do marketing, what methods have worked the best for you?
AUTHOR: The movies, e.g. The War of the Roses and Random Hearts, the traditional media, and now the Internet.
MLC: Do you have any idea how your book is selling?
AUTHOR: No.
MLC: What has been the best review you have gotten, and why?
AUTHOR: I rarely read my reviews, good or bad.
MLC: Have you won any awards, either as an author or for your books? Please tell us about them.
AUTHOR: No.
MLC: Is there any one certain thing that a reader has written to you that made you just want to jump up and shout "Yes!!!!"?
AUTHOR: When a reader writes, I always say "Yes."
MLC: What is your next project, and when will it be out?
AUTHOR: My various projects are listed on my website warrenadler.com.
MLC: If you could write anything at all, ignoring what editors and publishers say they want, what would it be?
AUTHOR: I have never written anything except what I want to write.
MLC: Do you have any words of wisdom for aspiring mystery authors?
AUTHOR: Read many mysteries, write daily, and keep at it.
MLC: Do you have any teasers for your readers and fans about the next book?
AUTHOR: No.
MLC: If a genie suddenly appeared and said they would grant you just one wish for your books, what would you wish for?
AUTHOR: That they be read at least one hundred years from now.
MLC: Please give us your website url and your email address where people can contact you.
AUTHOR: url--Warrenadler.com

e-mail--wadler@warrenadler.com Or adlernovel@aol.com
MLC: Thank you so much for giving us a little glimpse into your books and your life. We look forward to a lot more books from you.