Bookstore
CHICK LIT/CRIME/WHODUNIT/ ROMANTIC/CULINARY/HUMOR
MYSTERY
MURDER IN THE INN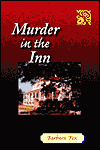 Buy from Amazon
Was Pauline Ellington's death an accident...or was it murder?

Sandy Evans married comedian Joey Jason and moved to Washington, DC, to manage the bed and breakfast inn he inherited from his former landlady Pauline Ellington. While settling in, Sandy finds a letter that convinces her Pauline's "accident' was really murder. She, her stepdaughter Janie and the housekeeper Noah begin an investigation.

They question the seven people who were staying at the inn at the time of the accident, they talk to friends and neighbors and they report their progress in nightly telephone conversations with Joey and Sandy's twin sister Allison. The book is set in the Georgetown section of Washington, DC, and is full of local color and places. An added bonus...several tasty and easy recipes from the inn are included.