Bookstore
HISTORICAL MYSTERIES
MARYLEBONE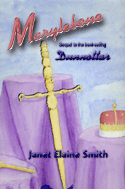 Buy from Amazon
MARYLEBONE, the sequel to best-selling DUNNOTTAR, flits back and forth between London and the Scottish highlands during the regency era. Handsome young James Keith, wanting to remain anonymous, visits "the clubs" in London, where he encounters Caroline Kent, who has just returned from Vienna after studying the piano.

Caroline is immediately enraptured by the mysterious Scotsman, but he seems to disappear every time she gets close to finding him. She calls on their mutual friend, the Duke of Hamilton, to help her locate him. Keith, who is using the alias Robert Paterson, swears Hamilton to secrecy, as he is on a personal quest to locate the Scottish regalia, which was hidden by the Keith clan at Dunnottar Castle more than one hundred years earlier.

Complete with two mysteries (who is the mysterious Scot and where is the regalia), throw in a famous person (Walter Scott), a secret which Caroline's father, the Earl of Kent, has kept buried almost as long, a surprise about the "mad King George" and you have the makings of a read that will delight you for a long time to come.