Bookstore
AMATEU SLEUTH/CATS/CRIME/
HUMOR/HOLIDAY/CULINARY/
WHODUNIT MYSTERY
plum pudding murder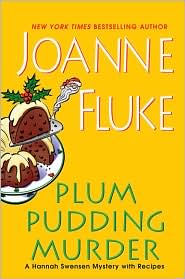 Buy from Amazon
The yuletide season in Lake Eden, Minnesota, guarantees a white Christmas, delectable holiday goodies from Hannah Swensen's bakery, The Cookie Jar—and murder. As a shadow hangs over her friends' Christmas wedding, Hannah's determined to cook a killer's goose before anyone else gets burned...

The Cookie Jar's busiest time of the year also happens to be the most wonderful time...for Christmas cookies, Hannah's own special plum pudding—and romance! Holiday orders are high, and Hannah's slated to provide dessert at the Reverend Knudsen's upcoming nuptials. She's busy as can be and loving it. She also gets a kick out of "Lunatic Larry Jaeger's Crazy Elf Christmas Tree Lot," a kitschy carnival taking place smack-dab in the middle of the village green. Larry thinks he's crazy like a fox with his wild business schemes, but this time, the entrepreneur may have bitten off more than he can chew. Rumor has it that Larry's in the red—an idea that takes a sinister turn when Hannah discovers the man himself dead as a doornail in his own office...

It seems quite a few people would have liked to fill Larry's stocking with coal and then bash him with it—including his bitter ex-wife, his ex-partner's daughter, a woman he was wooing, and the Crazy Elf Tree lot's extremely exasperated investors...

Now, with so many suspects to investigate and the twelve days of Christmas ticking away, Hannah's running out of time to nab a murderous Scrooge who doesn't want her to see the New Year...