Library
WHODUNIT/COZY/
CAPER/HUMOR/CHICK LIT/
LANDSCAPING MYSTERY
SLAY IT WITH FLOWERS
CHAPTER ONE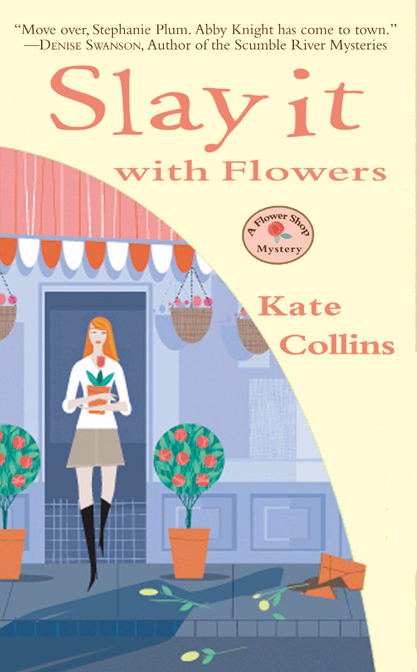 Just for the record, I am not, in the true definition of the word, a meddler.
According to my dictionary, a meddler is one who involves herself in a matter without right or invitation. Phfffft. Isn't me at all. I am a naturally curious, caring individual strongly opposed to two things: tyranny and injustice. That strong sense of right has been with me as far back as third grade, when I first strode the halls of Morton Elementary School with my "Hall Monitor" sash strapped across my chest.
I inherited these traits from my father, Jeffrey Knight, who was a sergeant on the New Chapel, Indiana, police force until a felon's bullet put him in a wheelchair. He firmly believed that his badge stood for honesty and right, and because of that he refused to play politics, which took a lot of courage but cost him many promotions. He has always been my hero.
But after the previous week -- when my beloved 1960 yellow Corvette and I were run off the road; my flower shop was burgled; and a homicidal garden center owner decided to put a stop to my breathing capabilities -- even my father had determined that I'd put my safety in jeopardy once too often.
As my assistant Grace, who has a quote for everything, was fond of saying, "If we don't learn from history, we are doomed to repeat it." Grace was usually right.
That week was behind me now. The bullies had been caught, the innocent cleared, and I had sworn off what my friends termed my "meddling," a vow they did not have to twist my arm to get me to make.
This particular Monday started at the customary time of eight o'clock in the morning -- or ten minutes past four by the clock on the courthouse spire. The clock had stopped running in either 1997 or 1897, but none of our elected officials was willing to take a stand on the matter -- or find someone to fix it. When asked, their usual response was, "What clock?"
I pulled the Vette into a space two doors down from my floral shop, landing it directly in front of the town's local watering hole, the Down The Hatch Bar and Grill, owned by the sexiest man who has ever worn a uniform, Marco Salvare, a former cop turned bar owner who dabbled in PI work on the side. Out front, Jingles the window washer was already hard at work with his trusty squeegee. Jingles was a friendly retiree whose goal in life appeared to be to keep every window and door on the square squeaky clean. His nickname came from his habit of jingling coins in his pocket. I wasn't sure if anyone actually knew his real name.
I gave Jingles a wave, then continued down the block, stopping on the sidewalk outside the old brick building that housed my shop to gaze up at the hand-lettered sign that proudly proclaimed my ownership. Even after two months, I was still in awe. Me, Abby Knight, a business woman. All grown up and in debt up to my eyebrows.
I traced a finger across my left eyebrow. The ring was gone. I had truly crossed the threshold into adulthood.
Bloomers is the second shop from the corner on Franklin Street, one of the four streets that surround the courthouse square. The store occupies the first floor and basement of the three story building, and has two bay windows with a yellow framed door in between. The left side of the shop houses our flowers and the right side is our coffee and tea parlor, where customers sit at white wrought iron tables and watched the happenings on the square.
The courthouse, built in 1896 from Indiana limestone, houses the county and circuit courts, plus all the government offices. Around the square are the typical assortment of family-owned shops, banks, law offices and restaurants. Five blocks east of the square marks the western edge of the campus of New Chapel University, a small, private college where I would have graduated from law school if I hadn't flunked out.
Because I had flunked out, I'd had to rethink my career plans to find something I could do successfully. It had been a very short list. Then I'd learned that the quaint little flower shop where I'd once worked part time was for sale -- a stroke of luck for me because I loved flowers and actually had a talent for growing things. So I used the rest of my grandfather's college trust as a down payment and had an instant career, which mollified my stunned parents. It also saved the owner, Lottie Dombowski, from bankruptcy caused by her husband's massive medical bills. Now Lottie works for me doing what she loves best, and I work for the bank, trying to make the mortgage payments.
Inside the shop, my assistant Grace Bingham was preparing her coffee machines for the day. As soon as I stepped inside and shut the door, she sang out in her crisp British accent, "Good morning, dear. How are we today?"
Grace spent years working as a nurse and sometimes still spoke in first person plural. I met her the summer I law clerked for Dave Hammond, a lawyer with a one-man office on the square. Grace was his legal secretary at the time. After she retired and found herself with too much time on her hands I persuaded her to work for me at Bloomers. It was a perfect fit.
"We are in a good mood," I called back. "The sun is shining, the temperature is just right, and it's Monday. The only way it could get better is if twenty orders came in overnight." I peered into the parlor. "They didn't, did they?"
"No, dear, only five."
Grace handled as many tasks as I cared to load on her. Since she was an expert tea steeper, coffee brewer, and scone baker, her main job was to run the parlor. It was one of our many efforts to lure in more customers. We were in dire need of more customers, especially now that a gigantic floral and hobby shop had opened on the main highway.
At that moment Lottie came bustling through the curtain from the workroom in back, a bundle of white roses in her ample arms, her usual pink satin bow pinned into the short, brassy curls above her right ear. It was a daring look for a forty-five year old mother of a highly embarrassable seventeen-year-old boy. Even more daring considering that she had four highly embarrassable seventeen-year-old boys. Lottie's opinion on that was simple: Suck it up...