Bookstore
AMATEUR SLEUTH/CHICK LIT/
HUMOR/ROMANTIC MYSTERY
KILLER DEAL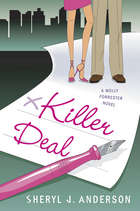 Buy from Amazon
The newest Molly Forrester mystery (#3)!

When Manhattan advertising maverick Garth Henderson is murdered, Molly just might finally get the chance to move from her advice column to true journalism with a juicy assignment: an exclusive interview with Gwen Lincoln, the victim's ex-wife and the prime suspect.

Was it a crime of passion--or something more? Manhattan's business circles are buzzing with rumors that it's related to Garth's buyout of a rival advertising firm. Or infighting among "The Harem," his six beautiful, talented, and ruthlessly competitive creative directors. Or fashion designer Emile Trebask, Garth's one-time client and now Gwen's business partner.

As if solving the ad world's most notorious murder on deadline wasn't enough, Molly must contend with a fickle editor with her own agenda, a best friend colliding head-on with true love, and ex-boyfriend Peter Mulcahy trying to worm his way into her story and back into her life. Will it all be too much for Molly's current boyfriend, NYPD homicide detective Kyle Edwards?

Determined to catch the killer and beat the competition, Molly digs in her four-inch Jimmy Choos because there's no turning back. In Manhattan, when you strike a deal, you keep it. Even if it kills you.