Bookstore
SUSPENSE/HISTORICAL/ FORENSICS/ARCHAEOLOGY MYSTERY
DRESSED TO DIE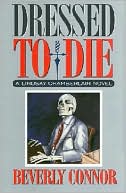 Buy from Amazon
Some skeletons just won't stay hidden. No one knows that better than University of Georgia archaeologist Lindsay Chamberlain. Still, it's a shock when a skeleton dressed in its Sunday best falls out of a 60 year old packing crate from her grandfather's kudzu covered shed. Other crates from the family farm contain a stash of valuable artifacts. Could Lindsay's beloved grandfather have been a thief, a looter—even a murderer?
As Lindsay struggles with these troubling questions, she helps a local P.I. locate the wooded grave of missing faculty member Shirley Foster and is sucked into an investigation that leads to more questions than answers. Why did Shirley Foster lie to the world about her life, and who wanted her dead?

Secrets and lies loom large in Lindsay's life, both professional and personal, as she struggles to find solutions to the mysteries. When artifacts disappear from the University, and she and her students are threatened, the stakes are raised. Job, reputation and life on the line, Lindsay must find a killer and a thief before the police put the cuffs on her and her brother.