Bookstore
ADVENTURE/TRADITIONAL/
AMATEUR SLEUTH/
PARTNER SLEUTHS MYSTERY
she had to know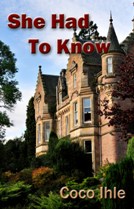 Buy from Amazon
One by one, Arran Hart's parents and husband die leaving her bewildered and traumatized. She discovers her adoption documents and learns she is not alone. She has a sister, Sheena Buchanan. In trying to make sense of a recurring premonitory dream, Arran realizes the depth of her desire to find her birth family——her sister. Persistence through two years of seemingly endless obstacles pays off and the sisters reunite at Sheena's 17th Century Wraithmoor Castle Inn in Scotland.

At the airport, Arran is stunned when she recognizes the sister, she has never known, from images in the dream she'd had two years before. She keeps quiet, afraid Sheena might think she is crazy. More images appear and she dismisses them, too, putting both sisters in jeopardy.

Together Arran and Sheena search for the reason their father and his housekeeper mysteriously died and why Sheena's life is being threatened. They are led to a cryptic rhyme found in the castle's library which maps the way to an ancient hidden treasure. The sisters follow the clues in the rhyme. The murderer follows the sisters. Who will survive?