Bookstore
COZY MYSTERY
the stranger in the opera house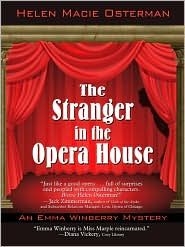 Buy from Amazon
Emma Winberry, The Accidental Sleuth, returns for another adventure in The Stranger in the Dressing Room. This time she and her significant other, Nate Sandler, are supernumeraries at the Midwest Opera for an upcoming production of The Ghosts of Versailles. This tile turns prophetic when the lead soprano screams that there is a strange man lurking in her dressing room. Although a police search turns up no evidence that anyone was there, the cast and crew are left on edge. And nerves become more frayed as the 'stranger' is seem again and again but never caught despite numerous attempts to apprehend him. Emma's sixth sense tells her he may be more than he seems. The rehearsals continue to be fraught with mishaps. When a large sum of money is stolen from the office and a guard seriously injured, everyone assumes it is the work of the mysterious 'stranger.' Everyone except Emma.

After finding an old trunk in a storeroom in the basement with documents dating back to the Underground Railroad, someone assaults the librarian in an attempt to steal them. The 'stranger' is again blamed, but Emma becomes convinced the apparition is a lost soul trapped between two worlds. Her Guardian Angel tells her she must help him cross over. But how?

Adding to the mystery is a figure in black secretly leaving packages in a hidden niche. Can Emma solve this puzzle and release the 'stranger' at the same time?

Determined to uncover the truth, Emma and friends are led on a life-threatening adventure that could very well be their last.