Bookstore
AMATEUR SLEUTH/COZY/
CULINARY MYSTERY
eggs benedict arnold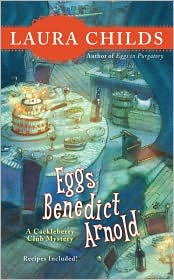 Buy from Amazon
Suzanne, Toni, and Petra lost their husbands but found independence in each other – as well as a life raft of support, inspiration, and their own cozy cafe. But when the Cackleberry Club opened its doors, who in town would have guessed that the three women would be working a double shift as amateur sleuths? Now Ozzie Driesden, the local mortician, has been found dead on his own embalming table and the ladies have more suspects than breakfast specials!

Halfway between a cozy and a thriller (a thrillzy?), Eggs Benedict Arnold delivers a big helping of everything readers enjoy – smart, slightly crazy women, pulse-pounding action, recipes, knitting, and a dash of spirituality. There's a reason the first book in the series (Eggs in Purgatory) was the #1 bestseller with Mystery Booksellers!

If you're looking for a fun, exciting read, Eggs Benedict Arnold is definitely your book. Plus you'll love Cackleberry Club recipes like Brown Sugar Meatloaf, Cheddar Cheese Biscuits, and Upside Down French Toast. And the Chocolate Flapjacks? Well, you'll just have to read the book!