Bookstore
WHODUNIT/COZY/
AMATEUR SLEUTH MYSTERY
THE LION TAMER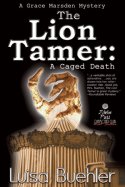 Buy from Amazon
"Welcome to the engaging Grace Marsden's world, where romance and mayhem vie for her attention--much to a reader's satisfaction and delight" Sharon Fiffer, Author, The Jane Wheel Mysteries

Wagons rolling, flags furling, horns blaring, the circus comes to town. Children chase the wagons, daring for a glimpse of exotic, wild creatures. The big cats roar, sending shivers through the crowd, but they edge closer demanding to be scared, knowing they are safe. And then a skeleton is found in a bygone relic. Is anyone safe?

Grace Marsden fights the lure of a decades old mystery surrounding a circus wagon, a phantom lion and human bones uncovered at the local zoo. But when a dead woman sends her a letter and a dead man ends up in her neighbor's yard, she can't ignore the lion tamer and his tale. Legend, fact, or fantasy? Grace needs to find out fast, before she becomes his current prey.