Bookstore
WHODUNIT/
SUSPENSE MYSTERY
BAD MANNERS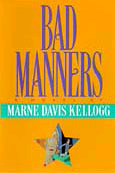 Buy from Amazon
"I wouldn't have minded so much being naked on the cover of the National Enquirer if I'd been thinner," says Santa Bianca Chief of Detectives Lilly Bennett.

Caught with a California judge by a sleazy photographer and threatened with (full) exposure in the tabloids, Lilly calls it quits with her lover and her job and heads back home to Wyoming, where men are men, women wear cowboy boots and murder is right up her alley.

Lilly intends to start a high-tech international security firm that will link Roundup, Wyoming to the four corners of the world. Then she lands her first case right in the neighborhood. Walter Butterfield, the richest, meanest man in town, gets a surprise at his birthday bash - his head blown off by a shotgun. Lilly's job is to find out who did it: his troubled daughter Ellen, who is discovered holding the weapon; his loud-voiced, big-bosomed second wife, Pamela, who isn't even smudging her mascara with a tear; his mistress, a six-foot-tall rodeo trick rider, who is bawling her eyes out; or none of the above.

As wisecracking as Susan Isaacs and as tough as Sue Grafton, Marne Davis Kellogg serves up a juicy Western-style whodunit in BAD MANNERS. And she delivers both the sizzle and the steak: fine mystery, first-rate satire, and great fun.