Bookstore
ESPIONAGE/ROMANTIC/
GOVERNMENT AGENCY MYSTERY
spy game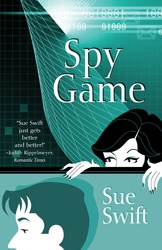 Buy from Amazon
Someone at Richard Rexford's Silicon Valley software company is selling cyber-secrets to foreign agents. Is it Richard himself? Fledgling spy Ani Sharif's first undercover assignment is to find out, no matter what it takes. Previously limited to low-level jobs for the super-secret United States Security Agency, she's poised to advance her budding career to the next level if she can locate and break into Richard's private laptop. Posing as a broke, out-of-work programmer, she lands a job in his company where she has access to some of his files and to the man himself.

When Richard hires the young programmer, he doesn't want to get involved with her. That quickly changes once he uncovers Ani's hidden passion. Sex between them is explosive, drawing them closer. Bondage games tie their hearts together even more tightly.

But what if Richard's a traitor? And if he's innocent, how will he react if he discovers that Ani's a spy?

Silicon Valley intrigue, kinky sex and intense emotions come together to delight fans of spicy romantic suspense. Award-winning, best-selling novelist Sue Swift has written a smart, sexy book.